If you're looking for a Capitol Reef map, you've come to the right place; currently I've collected 14 free Capitol Reef National Park maps to view and download. (PDF files and external links will open in a new window.) Mostly here you'll find a number of different trail maps along with a few maps that show the entire park. You can also browse the best-selling Capitol Reef maps and guidebooks on Amazon.
Capitol Reef map from the park brochures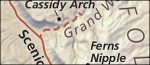 Here's the new Capitol Reef National Park map (2.0 mb), showing topographic relief and true color a bit better than the older park brochure maps below. It looks much nicer and gives you a better feel for the park!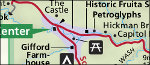 This is the full Capitol Reef map, showing the roads, campgrounds, the Fruita area, and part of Dixie National Forest. Click the image to view a full size JPG (700 kb) or download the PDF (1.1 mb).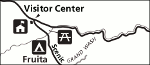 This is a printable Capitol Reef map (150 kb), showing the same things as the map above but in black and white only, making it a bit easier to print legibly without wasting a bunch of your printer ink.
Capitol Reef trail maps


If you're looking for a trail map to cover the entire park and show trail mileages and topo lines, you'll want a National Geographic Trails Illustrated map. This is especially true at a park like Capitol Reef, where trails are not all well marked and require route-finding skills. Last time I was there I thought I could get away without a topo map; I ended up lost for about 20 minutes before finding cairns again. Don't make my mistake!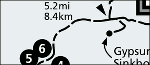 This is a Cathedral District trailhead map (150 kb), which shows the trailheads accessed from the Cathedral Valley Campground area (and Cathedral Road and Hartnet Road) in the northern part of the park.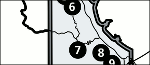 Here's a Waterpocket District trailhead map (180 kb), showing the location of each trailhead accessed off the Notom-Bullfrog Road and Burr Trail Road, further south in a remote area of Capitl Reef.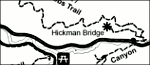 Here is a Capitol Reef trail map (450 kb), featuring the major trails in the main developed area of the park along the Scenic Drive, Highway 24, and near Fruita. This is probably the area you'll be driving through.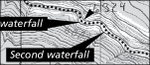 The Sulphur Creek trail map (550 kb) includes both the Chimney Rock and visitor center trailheads, with trails into Sulphur Creek (with some waterfalls) and the Goosenecks.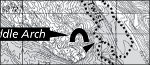 The Upper Muley Twist Canyon trail map (500 kb) shows the route from the Burr Trail Road and identifies the various arches along the way: Saddle Arch, Peek-a-boo Rock, and more.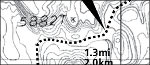 This Pleasant Creek trail map (550 kb) shows both the Upper and Lower Pleasant Creek routes, heading upstream and downstream from the trailhead into some narrow canyons.
Capitol Reef lodging map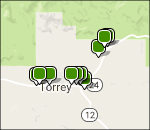 If you're going to stay near Capitol Reef, the town of Torrey, UT is your only game in town. To the right you can open a Hotels.com interactive lodging map of the Torrey area, which is just a few minutes outside the park entrance. I also recommend browsing Expedia's top-rated Capitol Reef lodging (or Hotels.com's) to compare reviews, prices, photos, features, and locations, finding the best place for you and your budget.
Various Capitol Reef maps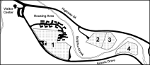 Here is the Fruita Orchard map (300 kb), showing each fruit orchard and what grows in it. It also shows the campground, picnic area, visitor center, and other sites in the main Fruita developed area.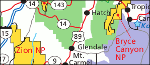 Here is a regional map of Capitol Reef, showing Capitol Reef as well as the surrounding parks and natural areas in southern Utah. Click the image to view a full size GIF (300 kb) or download the PDF (250 kb).
Scientific Capitol Reef maps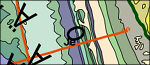 This Capitol Reef geologic map (5.9 mb) shows the folds and faults along the Waterpocket Fold, which makes up the backbone of Capitol Reef National Park. It's more complicated than it looks in person, right?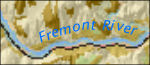 Here's a Capitol Reef vegetation map (6.7 mb), labeling the various plant and forest communities found within the boundaries of Capitol Reef National Park and in the surrounding landscape.
…and more!
< Return to National Park Maps home
< Return to Park List
< Return to List by State
Need more planning help? Browse Amazon's best-selling Capitol Reef maps and guidebooks.