If you're looking for a Mesa Verde map, you've come to the right place; currently I've collected 12 free Mesa Verde National Park maps to view and download. (PDF files and external links will open in a new window.) Here there are some trail maps focusing on specific areas of ruins, as well as a campground and full-park map. You can also browse the best-selling Mesa Verde maps and guidebooks on Amazon.
Mesa Verde map from the park brochure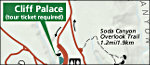 This is the official Mesa Verde map from the park brochure, showing roads, campgrounds, trails, museums, and all the cliff dwellings. Click the image to view a full size JPG (1.2mb) or download the PDF (4.4 mb).
In case you just wanted to print or save a few sections of the entire Mesa Verde map, I've cropped down the big map above into a few specific points of interest: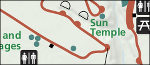 Here is a Chapin Mesa map (130 kb), which shows a number of the famous sites: Cliff Palace, Spruce Tree House, Balcony House, Mesa Top Loop, and nearby trails like Petroglyph Point and Soda Canyon Overlook.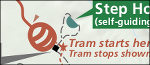 This Wetherill Mesa map (70 kb), focusing on the tram route that serves the Long House, Badger House, and Kodak House. You'll also find trails to other lookouts and ruins, such as the Step House.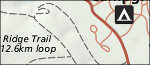 This is an entrance area map (100 kb), which centers on the Morefield Campground and shows the trails in the area to various view points: Montezuma Valley Overlook, Point Overlook, and the Knife Edge Trail.
Mesa Verde trail maps


The maps below do a nice job of showing an overview of each major point of interest. If you're doing a lot of hiking or exploring elsewhere in the area near Cortez or Durango, you'll probably want to order a National Geographic Trails Illustrated map that covers Mesa Verde as well as the surrounding national forest land around Durango in the San Juan Mountains. (Select the map on the drop-down menu under "Size.")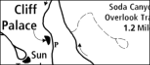 This is a Chapin Mesa map (100 kb) showing the location of the Cliff Palace, Spruce Tree House, Balcony House, and other ruins like Square Tower House, Sun Temple, Pueblo Village, and more.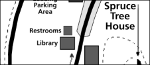 This is a Spruce Tree House area map (100 kb), showing the Petroglyph Point trail, Spruce Canyon trail, picnic area, museum, parking, restrooms, and other visitor support services.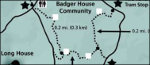 This is a Wetherill Mesa map (150 kb) showing the ruins, overlooks, and hiking trails at the end of Wetherill Mesa Road along the tram route. Many trails are labeled with their distance.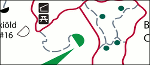 Here's an alternate Wetherill Mesa map (100 kb), which works much better for printing since it has a white background. The tram route and trails are labeled in different colors for easier reading.
Mesa Verde campground map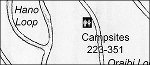 This is a Morefield Campground map (330 kb), located just inside the park entrance before the climb up to the ruins. (Thanks to Those Young Guys for the map!) Services like restrooms and the store are shown.
Mesa Verde lodging map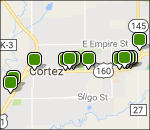 If you're visiting Mesa Verde, you'll want to find a place in Cortez, CO — the nearest major town to the park. A Hotels.com interactive lodging map is to the right, allowing you to see where the options are in Cortez (or move the map if you'd rather stay in a different town). Here I've also linked to Expedia's top-rated Mesa Verde lodging (or see Hotels.com), where you can view photos, read reviews, and compare prices.
Various Mesa Verde maps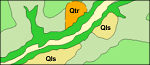 This Mesa Verde geologic map (1.7 mb) features both the bedrock that makes up the Mesa Verde cliffs as well as the more recent surface deposits in the park and in surrounding Colorado.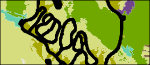 This Mesa Verde vegetation map (700 kb) shows how the plant communities change as you drive further (and higher) into the park. Roads are shown as well, to help you orient yourself to the vegetation.
…and more!
< Return to National Park Maps home
< Return to Park List
< Return to List by State
Need more planning help? Browse Amazon's best-selling Mesa Verde maps and guidebooks.