How do you, readers, benefit from me house- and pet-sitting over the last several days? Of course – it means I had time to create eight new park pages for you. Which brings me to 107 parks added! Of course, when I started this site, there were only 401 park units; now there are 412. Yep, the President keeps creating more work for me. Thanks, Obama.
Here's an overview of my new pages: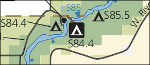 I gave the upper Midwest some love with Saint Croix River Maps, located in both Minnesota and Wisconsin. It's the second park I've added for each state.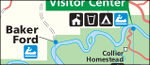 My most requested park was Buffalo National River, so I present to you Buffalo River Maps. I'm happy to bring some more attention to Arkansas, as Hot Springs often gets overlooked as it is.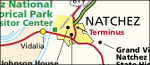 Poor Mississippi had been shut out so far, but I got Natchez Trace Maps up, allowing me to also give Alabama their first page as well (and Tennessee's second).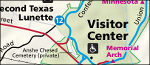 In Mississippi, when it rains, it pours so I continued that tradition by uploading my second Mississippi park in a row with Vicksburg Maps. Just five maps to start with here.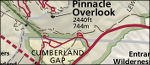 And more for Tennessee! Cumberland Gap Maps also allowed me to tick off another historical park, which my site has definitely been lacking in so far. The South definitely got lots of love with this update.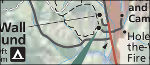 Now a quick jaunt west, to get the missing Mojave desert park, Mojave National Preserve Maps. I feel like California has too many pages added already, but hey, they've got a lot of parks.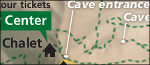 Up north: my fifth cave park and third Oregon park added: Oregon Caves Maps. Make sure you check out the underground maps; there are some fun ones here!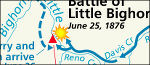 And finally, a traveling a little bit northeast from Oregon, we have Little Bighorn Maps – one of the few western parks with a historical focus. Gotta get more history!