If you're looking for a Mojave map, you've come to the right place; currently I've collected 8 free Mojave National Preserve maps to view and download. (PDF files and external links will open in a new window.) On this page you'll find full park maps as well as some trail-specific hiking maps and others. You can also browse the best-selling Mojave maps and guidebooks on Amazon.
Mojave maps from the park brochure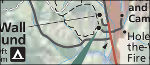 Here's the official Mojave National Preserve map from the park brochure, showing the full extent of the park from I-15 to I-40. Click the image to view a full size JPG (2.9 mb) or download the PDF (2.6 mb).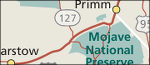 This regional Mojave map shows the park in relation to major roads and other nearby desert parks. Click the image to view a full size JPG (200 kb) or download the PDF (150 kb).
Mojave trail maps


The maps below show a couple of the short popular trails, but if you want a single map to cover the entire preserve, you should probably go with the National Geographic Trails Illustrated map of Mojave. This map covers the park in much more detail and includes trails as well as backcountry roads. You're much less likely to get lost when you're carrying one of these during your visit to Mojave National Preserve.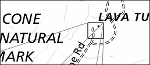 This Lava Tube trail map (500 kb) shows the route into the lava tube, located at the end of a 5-mile unpaved road a bit north of the Kelso Depot Visitor Center. You may want a high-clearance vehicle to access this trail.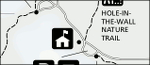 Here's a Hole-in-the-Wall trail map (150 kb), showing the several trail options (from 1/2 mile to 8 miles) accessed from the Hole-in-the-Wall area around Barber Peak off the Black Canyon Road.
Assorted Mojave maps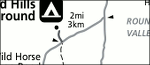 Here's a Mojave campground map (150 kb) that shows the locations of each of the park's campgrounds (Mid Hills, Hole-in-the-Wall, Black Canyon) as well as the type of roads used to access each one.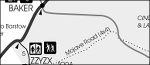 This Mojave road map (200 kb) is easier for printing than the full-park maps listed first on this page; this is best if you just want a simple road map showing distances between points of interest and nothing else.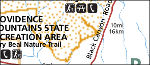 This is a Mojave Wilderness map (2.1 mb), similar to the full-park map listed above – with roads and visitor services – but instead highlighting the park areas that are designated Wilderness.
…and more!
< Return to National Park Maps home
< Return to Park List
< Return to List by State
Need more trip-planning help? Browse Amazon's best-selling Mojave maps and guidebooks.