If you're looking for a Buffalo Map map, you've come to the right place; currently I've collected 22 free Buffalo National River maps to view and download. (PDF files and external links will open in a new window.) Here you'll find the official full park map and also some more specific maps focusing on campgrounds and trails. You can also browse the best-selling Buffalo River maps and guidebooks on Amazon.
Buffalo River map from the official brochures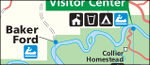 Here is the main Buffalo River map from the park brochure, showing all the river access points as well as the roads and points of interest. Click the image to view a full size JPG (1.1 mb) or download the PDF (1.1 mb).
Buffalo River trail maps


Below you'll find many trail maps of varying quality covering different parts of Buffalo National River. If you'd like a more comprehensive map, I'd recommend the National Geographic Trails Illustrated maps of Buffalo River, available both as Buffalo River West and Buffalo River East. These maps include trail mileages and topographic lines, and are suitable for long-distance wilderness travel.
The following six maps show segments of the Buffalo River Trail from west to east.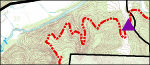 The Boxley to Ponca map (1.2 mb) shows the westernmost segment of the Buffalo River Trail, starting just south of Boxley Bridge and dropping into two valleys before arriving at Ponca.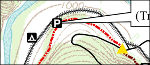 This Ponca to Steel Creek map (1.3 mb) shows the Buffalo River Trail running mostly north, paralleling the eastern shore of the river. This section has fewer up-and-downs than the previous segment.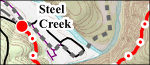 The Steel Creek to Kyle's Landing map (1.5 mb) covers the trail's route through the Ponca Wilderness; this segment is nearly 8 miles and involves ascending a couple hills before the descent to Kyle's Landing.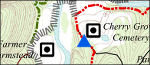 Here's a Kyle's Landing to Erbie map (1.2 mb), showing the immediate climb out of Kyle's Landing before dropping back down near the Buffalo. Note the trail profile is the opposite direction as the map.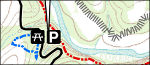 This Erbie to Ozark map (1.1 mb) shows this segment of the trail from Erbie Campground to Ozark Campground, via Cedar Glade. This is a pretty flat stretch, with only minor up-and-downs and no major hills.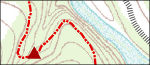 This Ozark to Pruitt map (1.0 mb) covers a very short segment of the eastern end of the Buffalo River Trail — about two-and-a-half miles from the Ozark Campground to the Pruitt Picnic Area.
The following maps show some of the other trails in Buffalo National River, presented here roughly from west to east.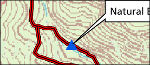 This Lost Valley trail map (400 kb) shows this very popular short uphill trail that passes a natural bridge as well as Eden Falls. You'll get to Falls Cave after about a mile of hiking (one way).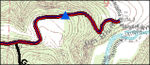 Here's a Centerpoint trail map (550 kb) shows this route that leads through the Ponca Wilderness and descends 1300 feet to the Buffalo River — it's quite strenuous on the return, having to climb it all back!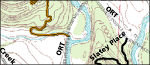 The Hemmed-in Hollow trail map (550 kb) shows this strenuous trail that leads down toward the bluffs of the Buffalo, descending over 1300 feet. This is another trail much more difficult on the return.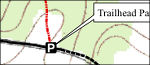 The Hide-out Hollow trail map (350 kb) shows this relatively easy trail that includes views of the Cecil Cove valley and some waterfalls. This trail is less than a mile, one way.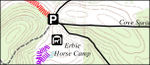 This Cecil Cove trail map (400 kb) shows this route that crosses Cecil Creek several times and passes historic sites and homesteads. You'll find the trailhead near Caver's Camp and Erbie Horse Camp.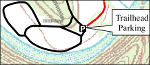 Here's a Mill Creek trail map (350 kb) that includes a few loop options from the Pruitt launch area, none of which are too strenuous. The Shaddox Cabin and cemetery are both labeled.
Buffalo River campground maps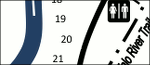 This Steel Creek Campground map (150 kb) shows the westernmost campground in the national park; it has both tent and horse sites (in separate areas) and is open all year.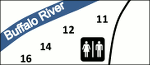 The Kyle's Landing Campground map (150 kb) shows this tent campground on the south shore of the Buffalo River accessible by a very rough gravel road. Directions are GPS coordinates are provided.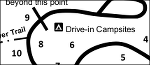 Here's an Erbie Campground map (150 kb) that focuses on this remote campground that can accommodate RVs, although there are no hookups nor is there running water (which keeps a lot of RVers away).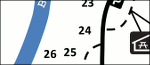 This Ozark Campground map (150 kb) shows the campground's single loop; running water is available during the peak season only, which is mid-March through mid-November here.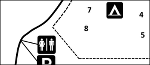 This Carver Campground map (100 kb) shows this very small campground that is located right off Highway 123. There is no trash service here, so pack it all out! Leave your campsite better than you find it.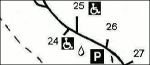 The Tyler Bend Campground map (400 kb) includes not just the campground, but the whole area surrounding it, such as the Tyler Bend Visitor Center, picnic area, river access, and restrooms.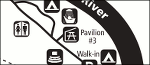 The Buffalo Point Campground map (200 kb) shows the only campground in the park with full RV hookups; sites here can be reserved in advance. The map labels campground amenities as well as trails.
Buffalo River vegetation map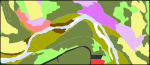 Here's a vegetation map of Buffalo National River (2.6 mb), showing the locations of different plant communities in the park, including hardwood forests, woodlands, shrublands, glades, and wetlands.
…and more!
< Return to National Park Maps home
< Return to Park List
< Return to List by State
Need more planning help? Browse Amazon's best-selling Buffalo River maps and guidebooks.