If you're looking for a Hot Springs map, you've come to the right place; currently I've collected 6 free Hot Springs National Park maps to view and download. (PDF files and external links will open in a new window.) Here there's a full park map, along with one showing just the visitor center area and one showing the surrounding region. You can also browse the best-selling Arkansas maps and guidebooks on Amazon.
Hot Springs map from the park brochures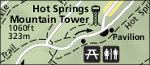 This is the complete Hot Springs National Park map from the brochure, showing the park, hiking trails, and city of Hot Springs. Click the image to view a full size JPG (600 kb) or download the PDF (900 kb).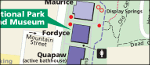 This is a Hot Springs visitor center area map (100 kb), zoomed in on the most visited part of Hot Springs National Park including the bathhouses, springs, roads, parking, trails, and visitor center.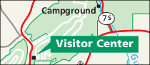 This is a regional map of Hot Springs that shows the roads and highways leading into and around the park from surrounding Arkansas. Click the image to view a full size GIF (50 kb) or download the PDF (700 kb).
Hot Springs geologic map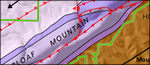 The geologic map of Hot Springs National Park (1.8 mb) zooms in on the national park lands while also showing the bedrock, folds, faults, and dikes in the surrounding region in Arkansas.
Hot Springs lodging map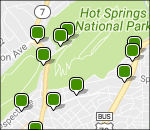 If you're visiting Hot Springs National Park, you'll likely want to stay in (shocker!) Hot Spring, AR. To the right you can open a Hotels.com interactive lodging map of Hot Springs, making it easy to see where your choices are in reference to the park. I'd also recommend browsing Expedia's top-rated Hot Springs lodging (or Hotels.com) in order to read reviews, compare prices, and see photos of each place you're considering.
Hot Springs topo map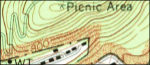 Here's a Hot Springs topographic map, (3.1 mb), which includes a large section of park lands as well as the town of Hot Springs, Arkansas and the surrounding hills – Sugarloaf Mountain and Hot Springs Mountain.
…and more!
< Return to National Park Maps home
< Return to Park List
< Return to List by State
Need more planning help? Browse Amazon's best-selling Arkansas maps and guidebooks.