If you're looking for a Saint Croix map, you've come to the right place; currently I've collected 12 free Saint Croix National Scenic Riverway maps to view and download. (PDF files and external links will open in a new window.) Here you'll find maps that show the entire park and also ones that show specific river segments in greater detail. You can also browse the best-selling Saint Croix maps and guidebooks on Amazon.
Saint Croix map from the official brochure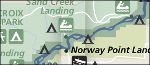 Here is the main Saint Croix River map which shows the length of the park and provides a key for the detail maps below. Click the image to view a full size JPG (1.6 mb) or download the PDF (7.2 mb).
Detailed Saint Croix maps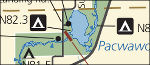 Map 1: This Namekagon River map shows Namekagon Dam to Hayward (500 kb) upstream on the Namekagon River before it joins with the Saint Croix, spanning both Bayfield and Sawyer counties.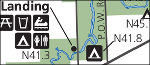 Map 2: Here we have another Namekagon River map showing Hayward Landing to Trego (400 kb), and includes the Namekagon River Visitor Center. This map spans Sawyer and Washburn counties.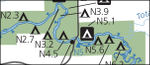 Map 3: The Trego to Riverside Landing map (500 kb) focuses on the Namekagon River but includes its confluence with the Saint Croix River. You'll see both Washburn and Burnett County included.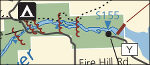 Map 4: This map of the Saint Croix River shows Gordon Dam Landing to Riverside Landing (500 kb), upstream of where it meets the Namekagon River. Included are Burnett, Washburn, and Douglas counties.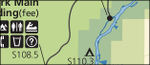 Map 5: Now we're below the confluence! This map of Riverside Landing to Sand Creek Landing (500 kb) shows the Saint Croix River downstream of the confluence, adjacent to both Minnesota and Wisconsin.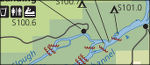 Map 6: As the Saint Croix River jogs south, this map shows Sand Creek Landing to Highway 70 Landing (450 kb), including a couple state forests and St. Croix State Park in Minnesota.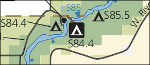 Map 7: This Highway 70 Landing to Highway 8 map (600 kb) shows where the Saint Croix cuts back to the east toward the St. Croix River Visitor Center along the river in Wisconsin.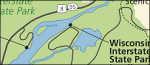 Map 8: This Saint Croix map shows Highway 8 to Osceola Landing (550 kb) and includes both the Wisconsin and Minnesota Interstate State Parks south of the St. Croix River Visitor Center.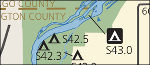 Map 9: The Saint Croix River now flows almost completely due south, and this map shows Osceola Landing to the High Bridge (550 kb), including St. Croix Islands State Wildlife Area and William O'Brien State Park.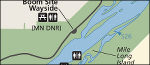 Map 10: Finally, we have the southernmost extent of National Park Service managed river, and this map shows that last stretch from the High Bridge to Boom Site Landing (600 kb). Further south, it's managed by the states.
…and more!
< Return to National Park Maps home
< Return to Park List
< Return to List by State
Need more help? Browse Amazon's best-selling Saint Croix maps and guidebooks.