If you're looking for a Black Canyon map, you've come to the right place; currently I've collected 7 free Black Canyon of the Gunnison National Park maps to view and download. (PDF files and external links will open in a new window.) I've got both the full-park map as well as a regional map showing the surrounding area. You can also browse the best-selling Black Canyon maps and guidebooks on Amazon.
Black Canyon map from the park brochures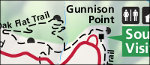 This is the complete Black Canyon of the Gunnison map from the official brochure, showing the viewpoints, roads, and major trails. Click the image to view a full size JPG (1.3 mb) or download the PDF (7 mb).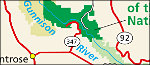 This is a regional map of Black Canyon of the Gunnison that shows the park in relation to nearby highways and towns such as Montrose. Click the image to view a full size JPG (95 kb) or download the PDF (200 kb).
Black Canyon trail map


Unfortunately I haven't found any good free trail maps for Black Canyon of the Gunnison National Park (just the free one below). However, the National Geographic Trails Illustrated map is great for showing the entire park along with all trails and backcountry campsites (and also includes Curecanti National Recreation Area). There are also tons of other Trails Illustrated maps for other regions of Colorado.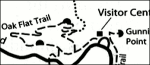 This Black Canyon trail map (500 kb) isn't too detailed but shows the backcountry routes down to the river that aren't displayed on the full park map. It goes without saying: you'll want actual topo maps for those hikes!
Black Canyon campground maps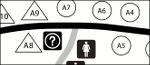 The South Rim Campground map (200 kb) shows the largest campground in the park; it includes three loops and has both campsites available for reservations and also first-come first-served ones.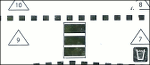 The East Portal Campground map (350 kb) shows both the drive-in and walk-in sites at this first-come first-served campground along the Gunnison River at canyon bottom. It's a beautiful quiet location!
Black Canyon lodging map
This part of Colorado is pretty empty, so you don't have a lot of towns to choose from when deciding where to stay. Montrose is really the only option if you're planning on seeing the major park sites. To the right is a Hotels.com interactive Montrose lodging map, so you can see where it is in relation to the park. You could also browse Expedia's top-rated Black Canyon lodging (or Hotels.com) to compare prices and guest reviews.
Black Canyon vegetation map

Here's a vegetation map of Black Canyon (3.6 mb), labeling the various forests and woodlands (douglas fir, pinyon-juniper, etc), as well as showing where only bare rock covers the surface.
…and more!
< Return to National Park Maps home
< Return to Park List
< Return to List by State
Need more help? Browse Amazon's best-selling Black Canyon maps and guidebooks.