If you're looking for a Manzanar map, you've come to the right place; currently I've collected 8 free Manzanar National Historic Site maps to view and download. (PDF files and external links will open in a new window.) Here you'll find maps that show how Manzanar appeared when it was in use, as well as maps reflecting its appearance today. You can also browse the best-selling Manzanar books on Amazon.
Manzanar map from the park brochures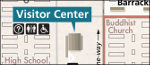 Here is the official Manzanar map (900 kb) from the brochure, showing the buildings and facilities still standing (or reconstructed) and the outlines of former buildings that are no longer present.
Manzanar tour maps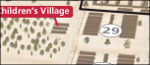 This 3D Manzanar driving tour map labels the points of interest that you'll encounter along the auto tour route. Click the image to view a full size JPG (550 kb) or download the PDF (270 kb).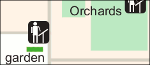 Here's a printable tour map of Manzanar, showing some of the features along the tour route that still exist today. Click the image to view a full size GIF (150 kb) or download the PDF (350 kb).
Manzanar historical maps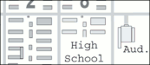 Here's a printable Manzanar map (600 kb), showing the arrangement of buildings, gardens, schools, parks, guard towers, and fields as the internment camp appeared in 1944.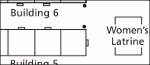 This is a Manzanar block layout map (50 kb), showing the typical arrangement of each of Manzanar's blocks, including community toilets, mess halls, laundry, and recreational buildings.
Other Manzanar maps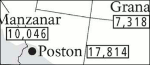 Here's a United States internment camp map (100 kb), showing the other internment camps in use during World War II along with their peak populations. You can see that several were even larger than Manzanar.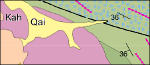 The Manzanar geologic map (900 kb) labels all the rock types, faults, and other geologic features found nearby Manzanar National Historic Site. You can see that Manzanar was built entirely on Sierra Nevada alluvium.
…and more!
< Return to National Park Maps home
< Return to Park List
< Return to List by State
Need more trip-planning help? Browse Amazon's best-selling Manzanar books.