I received an email from a site user echoing a sentiment I'm hearing often here in 2017:
My fellow co-workers and I are concerned about the future of our national parks — specifically regarding their funding and land protection. We are finding ways/places to donate both our time and money to help preserve and support — do you have any favorites or suggestions?
It feels good to do something, but it's difficult to feel like you're doing something tangible. There are indeed big ways to help, like volunteering at a park (Volunteer.gov has current positions). But due to life circumstances, not everyone is able to contribute with major time investments. So, what's a small, easy thing — doable by anyone — that will make a tangible difference? I created this page for those of you wondering the same thing.
Write a thank you letter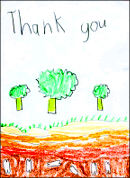 As national park visitation increases, the job of a park ranger gets tougher and tougher: visitors are upset because the parking lot is full, rangers are stressed because the information desk line stretches out the door, and everyone's frustrated because no one likes it this way, yet there all we are. It's draining. And that's not how a park visit should be.
But before, during, and after these shifts, rangers generally have a few minutes here and there to rest, recover, and regain sanity in their breakroom or office area. How great would it be to fill those rooms with thank you letters?
Parks are important. They change lives. They make a difference. And sometimes — maybe after again telling someone not to approach the bear, or again unclogging the overflowing toilet, or again listening to the complaint about the entrance fee — it's easy for rangers, maintenance workers, and support staff to forget.

Think about your favorite national park. Why is it your favorite? What do you appreciate about it most? How has the park changed you? How has it made your life better? When has it taken your breath away or given you goosebumps? How would your life be different if it didn't exist? Rangers and park staff would love to hear how they are making a difference.
Share those stories. Tell how you feel in a written letter. Don't send an email or call the park; a letter is personal, tangible, lasting. Write one to your favorite park, or to the next park you're visiting, or to a park you'll probably never visit (but are grateful for existing). Write one. Write five. Write fifty. Give park staff the fuel they need to stay motivated and make each visitor's national park experience a special one. Together, we can brighten thousands of days.

Below you'll find links to the mailing addresses for all national parks, sorted by state. (You can also see a list of all parks alphabetically on my Contact a Park page.) Or, consider hand-delivering your letters on your next park visit.
Alabama
Alaska
Arizona
Arkansas
California
Colorado
Connecticut
Delaware
Florida
Georgia
Hawaii
Idaho
Illinois
Indiana
Iowa
Kansas
Kentucky
Louisiana
Maine
Maryland
Massachusetts
Michigan
Minnesota
Mississippi
Missouri
Montana
Nebraska
Nevada
New Hampshire
New Jersey
New Mexico
New York
North Carolina
North Dakota
Ohio
Oklahoma
Oregon
Pacific Islands
Pennsylvania
Puerto Rico
Rhode Island
South Carolina
South Dakota
Tennessee
Texas
Utah
Vermont
Virgin Islands
Virginia
Washington
Washington, D.C.
West Virginia
Wisconsin
Wyoming