Many users write to me asking trip-planning questions and want me to to send hard copies of maps. Unfortunately, I am just a regular guy with no special access; I don't have any maps to send! I try to help the emailers as much as possible, but I'm just not an expert on every park. So here are links to contact every single national park. As far as I know, this is the only page on the Internet that has links to every park's contact info in one place.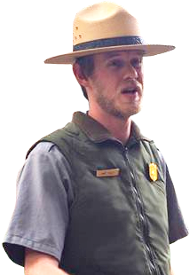 Use the links below to contact the park you're seeking information for; park staff can answer your questions and/or send you brochures, newspapers, and maps. Each link will open the park's official NPS.gov "Contact Us" page in a new window.
You can also check out my Thank A Ranger page for a list of parks' contact info organized by state.
National Parks
National Monuments
National Recreation Areas
Seashores, Lakeshores, and Rivers
National Memorials
Battlefield and Military Parks
Preserves, Trails, Roads, and Others
Historic Sites and Parks