I found a bit of time for a fun update: I am pleased to present my first ever NPMaps.com exclusive! That's right – I've actually uploaded five maps that were previously unavailable anywhere online, including the official government nps.gov sites. I'm the first to host them. Exciting stuff, huh? So, let's get to it…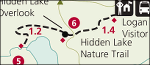 So, which is the lucky page? Why it's none other than Glacier National Park maps! Through secret sources (ooooooh!), I've been given four new trail maps for Lake McDonald, Logan Pass/St. Mary, Many Glacier, and Two Medicine that are free to use and distribute. Enjoy! These are better than the ones the park includes in their free hiking handouts.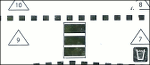 Oh, but that's not all – I actually have a second exclusive to share with you! This one is slightly less exciting, however; it's just a campground map for East Portal Campground on the Black Canyon of the Gunnison maps page. So what makes it an exclusive? Well, this is a map I've never been able to find online; I actually got this map by visiting in person, taking a photo of the campground registration board, and digitizing it myself. (Never let it be said that I'm not dedicated.) So for now, this is the only place online you'll be able to find this map.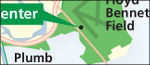 But I haven't just been sitting here content with only a few exclusives. Nope; enjoy the 28 maps I've just uploaded to the new Gateway National Recreation Area maps page. Honestly, I've been procrastinating on this one for a while as I knew it would take me a long time. And it did. But hey, now it's up and I can move on to something more fun. New parks coming soon…