If you're looking for an Alcatraz map, you've come to the right place; currently I've collected 4 free Alcatraz Island maps to view and download. (PDF files and external links will open in a new window.) Alcatraz is a part of Golden Gate National Recreation Area, and this page only focuses on the Alcatraz unit. You can also browse the best-selling Alcatraz books on Amazon.
Alcratraz map from the park brochures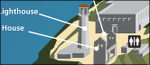 Here is the official Alcatraz map from the brochure, labeling the points of interest and showing the location of where to begin the cellhouse audio tour. Click the image to view a full size JPG (200 kb).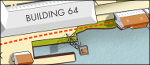 This is an overhead Alcatraz Island map, showing the island from a top-down view including the route from the ferry dock to the cellhouse and lighthouse. Click the image to view a full size JPG (400 kb).
Alcatraz cellhouse map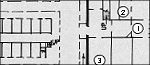 Here's an Alcatraz cellhouse map, focusing on cellblocks A-D and labeling other features such as the mess hall, kitchen, library, visiting room, and other features. Click the image to view a full size JPG (150 kb).
…and more!
< Return to National Park Maps home
< Return to Park List
< Return to List by State
Need more trip-planning help? Browse Amazon's best-selling Alcatraz books.