Since my last update, I've added another five parks to this site. But before I introduce those pages as I traditionally do in these updates, I wanted to instead share with you a couple non-map pages I've created. The first is Operation: Thank A Ranger.
OK, maybe that's a silly name. Whatever. I created this new page after receiving an email last week from a site visitor that included the following:
My fellow co-workers and I are concerned about the future of our national parks — specifically regarding their funding and land protection. We are finding ways/places to donate both our time and money to help preserve and support — do you have any favorites or suggestions?
I pondered on this for a while, trying to avoid responding with the traditional "volunteer for x, support organization y." Eventually I came up with what I thought was a nice idea, replied to the email, and went on about my life.

But I soon realized my idea would work much better if a critical mass was reached. I wanted to share my idea with others, so I got to work, spent hours organizing and compiling links, and put together my new Thank A Ranger page. Check it out! I won't repeat that whole page here, but the gist is that I'd love it if we could show our support to park employees by writing them letters of support and appreciation — helpful reminders for those dealing with record crowds and questions about the future of their agency.
On the Thank a Ranger page you'll find links to the contact information of every national park, sorted by state. In case you'd rather see a full list of parks alphabetically, I also created the Contact A Park page. This page should be super-helpful for those of you want to have official brochures and maps sent to your home, as parks will generally send those upon request. Keep these two pages handy and you'll be able to get your trips planned faster.
OK, enough blabbing — what new pages have I created?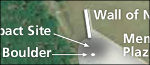 Flight 93 Maps. Did you even know Flight 93 National Memorial existed? As you can imagine, it's one of our newer national park units, and the only one related to the tragic events of September 11, 2001.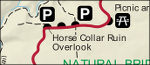 Natural Bridges Maps. If you're looking for dark night skies, Natural Bridges National Monument may be your best bet as the first International Dark Sky Park.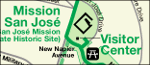 San Antonio Missions Maps. I've finally got so many large natural park pages uploaded that I get to spend time working on historical parks! Stay tuned for a much larger percentage of them from here on out.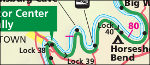 C&O Canal Maps. Like this one. Although many visitors go to the C&O Canal for running, biking, and outdoor activities, the park actually protects the historic canal and towpath, so important in the 1800s.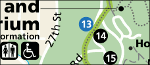 Rock Creek Park Maps. And I always have a soft spot in my heart for urban parks such as Rock Creek. Not everyone can afford to travel to large western parks; here, the rangers can come to them.
That's it for this update! As a reminder, you can keep abreast with the latest updates here by following me on Facebook or on Twitter.