If you're looking for a Yellowstone map, you've come to the right place; currently I've collected 44 free Yellowstone National Park maps to view and download. (PDF files and external links will open in a new window.) Here you'll find maps of the developed areas in the park (geyser basins and such) as well as trail maps for hiking, snowshoeing, and skiing. You can also browse the best-selling Yellowstone maps and guidebooks on Amazon.
Yellowstone map from the park brochures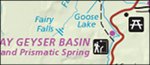 This is the main Yellowstone National Park map showing roads, attractions, lodging, and campgrounds throughout the entire park. Click the image to view a full size JPG (1.9 mb) or download the PDF (11 mb).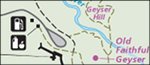 This is the Old Faithful map (80 kb) showing trails, lodging, and services in the Old Faithful geyser area. Venture beyond Old Faithful! The other geysers and pools are incredible and you can get much closer.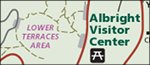 This is the Mammoth Hot Springs map (90 kb) showing roads, trails, lodging, camping, and attractions around Mammoth Hot Springs, including both the Upper and Lower Terraces.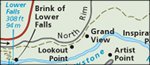 This is the Canyon Village map (90 kb) showing Canyon Lodge, the campground, hiking trails, and the amazing iconic viewpoints including Artist Point, Inspiration Point, Grand View, and Lookout Point.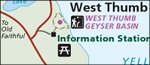 This is the West Thumb and Grant Village map (70 kb) showing West Thumb Geyser Basin, Grant Village, and the surrounding roads, trails, campground, lodge, and services at the west end of Yellowstone Lake.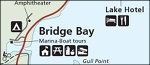 This is the Lake Village and Fishing Bridge map (90 kb) showing Bridge Bay, Lake Village, the Lake Hotel, Fishing Bridge, and the surrounding the roads, trails, and campgrounds, and lodging on Yellowstone Lake.
Yellowstone trail maps


If you're looking for a map of hiking trails outside of the major geyser basins, you'll need to buy a hiking map like the National Geographic Trails Illustrated map. Nat Geo also publishes a set of more-detailed Yellowstone maps and sells them as a bundle of four maps. Or, if you're also visiting Grand Teton National Park, you can save money by buying the Yellowstone/Grand Teton map pack, covering both parks.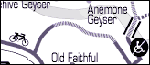 This is an Old Faithful trail map (40 kb), showing the trails, boardwalks, geysers, and thermal features in the southeastern part of the Upper Geyser Basin, nearest Old Faithful Geyser.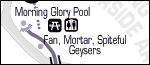 Here's another Old Faithful area trail map (40 kb), showing the northwest continuation of the previous map, including Riverside Geyser, Giant Geyser, Morning Glory Pool, and the Biscuit Basin.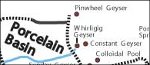 This is a Norris Geyser Basin trail map (40 kb), showing geysers and hot springs in both the Porcelain Basin and Back Basin. This is the most dynamic geyser basin in Yellowstone – be prepared for trail reroutes!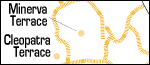 This is a Mammoth Hot Springs trail map (30 kb), showing the terraces, springs, trails, and boardwalks in the Mammoth Hot Springs area. Come back again and see how the terraces change!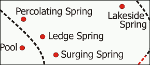 Here's a West Thumb Geyser Basin trail map (40 kb), showing the geysers and thermal features such as Fishing Cone on the west shore of Yellowstone Lake near Grant Village.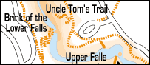 Here's a Grand Canyon of the Yellowstone trail map (50 kb), showing the trails accessing both Upper and Lower Falls. If you're feeling brave, give Uncle Tom's Trail a try! Or enjoy the falls from afar.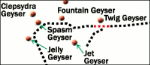 This is a Fountain Paint Pot trail map (50 kb), showing the trails surrounding the Fountain Paint Pots and thermal features in the Lower Geyser Basin, including popular Clepsydra Geyser.
Yellowstone lodging map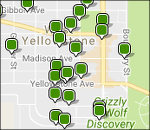 The highest concentration of hotels is in West Yellowstone; you can view a Hotels.com interactive West Yellowstone lodging map on the right. However, there are many more places you can stay: Gardiner, MT provides the quickest access to the North Entrance and there's lodging inside the park too. So you may want to browse all highest-rated Yellowstone area lodging, where you can compare reviews, photos, and prices.
Regional Yellowstone maps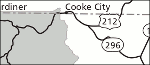 Here's a regional road map of Yellowstone (100 kb), showing the major and local highways that can get you to Yellowstone and Grand Teton National Park from surrounding Montana, Wyoming, and Idaho.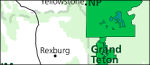 This regional park map of Yellowstone (200 kb) focuses mostly on the national parks in the states surrounding Yellowstone (and includes some major highways). This map is great for road-trip planning!
Printable Yellowstone maps
The following maps cover the same territory as the maps from the official brochure, but are better for printing since they have a white background and fewer colors.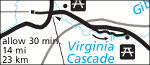 This printable Yellowstone map (550 kb) shows the entire national park and shows all roads, picnic areas, campgrounds, and points of interest. It includes driving distances and time estimates as well.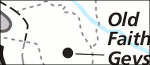 The printable Old Faithful map (70 kb) focuses on the Upper Geyser Basin and developed areas immediately surrounding Old Faithful Geyser out to Castle Geyser and Grand Geyser.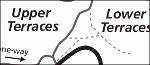 Here's a printable Mammoth Hot Springs map (60 kb), showing the Upper and Lower Terraces and also the village area including the visitor center, Mammoth Hot Springs Hotel, and visitor services.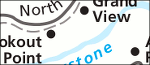 This printable Canyon Village map (60 kb) includes the area around the Canyon Lodge and visitor center as well as the rim drives to the various Grand Canyon of the Yellowstone viewpoints.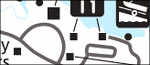 The printable West Thumb and Grant Village map (50 kb) shows the many visitor facilities in Grant Village and the nearby West Thumb Geyser Basin – visitor center, lodge, campground, and so on.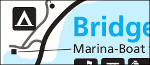 Here's a printable Lake Village and Fishing Bridge map (70 kb), which also includes Bridge Bay and shows the Lake Hotel, Lake Lodge, marina, campgrounds, and visitor services such as laundry and showers.
Yellowstone backcountry maps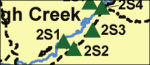 Here's a Yellowstone backcountry map (2.4 mb), including labels and descriptions for each backcountry campsite. The five maps below zoom in on specific areas in the Yellowstone backcountry.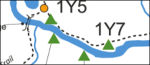 The Yellowstone River backcountry map (450 kb) includes the trails and campsites in northern Yellowstone near Hellroaring Creek and the Yellowstone River upstream of Gardiner, MT.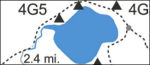 This Canyon area backcountry map (150 kb) shows the campsites and trails located west of Canyon Village and north of the loop road – near Ice Lake and Wolf Lake, Grebe Lake, and Cascade Lake.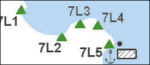 The Yellowstone Lake backcountry map (800 kb) features the campsites lining the shores of Yellowstone Lake, many of which are accessible only by water. Also included are descriptions for each campsite.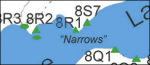 Here's a Shoshone Lake backcountry map (250 kb), showing the campsites and trails around Shoshone Lake in the southwest part of Yellowstone, upstream of Lewis Lake.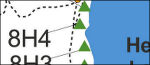 The Heart Lake backcountry map (200 kb) focuses on Heart Lake campsites and the surrounding trails located south of Yellowstone Lake and east of the loop road.


The maps above are all great for trip planning, but they're definitely not suitable for backcountry travel. You instead need a topographic map like one from the National Geographic Trails Illustrated series. You can get specific quadrant maps (Old Faithful, Mammoth Hot Springs, Tower/Canyon, Yellowstone Lake) or purchase the bundle of four maps that cover the entire park.
Yellowstone ski and snowshoe maps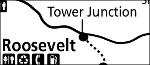 This is the 2016 Yellowstone winter roads map (300 kb), showing which roads are open and closed during the winter season for cars or oversnow vehicles such as snowmobiles.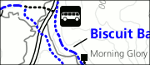 The Old Faithful area winter trails map (350 kb) shows the groomed ski and snowshoe trails surrounding the Snow Lodge at Old Faithful and labels them according to difficulty level.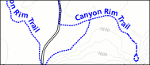 The Grand Canyon of the Yellowstone winter trails map (200 kb) shows the ski trails to the rim of the canyon at Inspiration Point and Grandview Point, as well as other ski trails like to Cascade Lake.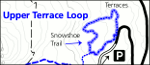 Here is the Mammoth Hot Springs winter trails map (350 kb), showing the groomed ski trails, snowshoe trails, and roads near Mammoth Terrace and south toward Bunsen Peak, Indian Creek, and Bighorn Loop.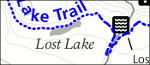 This ski and snowshoe map of the Tower area (400 kb) has the groomed and ungroomed trails near Tower Falls and the Blacktail Plateau. These are located off the plowed all-year highway.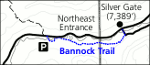 The northeast winter trails map (300 kb) has the Bannock and Barronette ski trails just inside the Northeast Entrance near Cooke City, MT. These trails are also accessible by car.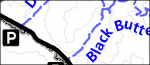 This northwest winter trails map (250 kb) shows ski and snowshoe routes near West Yellowstone and the Gallatin area accessible by road and snowmobile in the extreme northwest corner of Yellowstone.
Yellowstone things to do map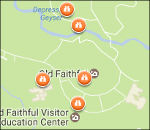 This interactive attractions map from TripAdvisor is a great place to start to plan your Yellowstone trip; I just love reading personal reviews and learning from others' first-hand experience. Along those same lines, I find the TripAdvisor readers' top Yellowstone things to do list to be quite handy for trip planning. Or if you're a fan of guided tours, you may want to spend time browsing the highest rated Yellowstone tours. Enjoy!
Yellowstone geologic maps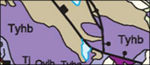 Here's a Yellowstone geologic map (6.5 mb) showing the huge variety of volcanic formations and thermal features throughout Yellowstone National Park. The caldera is especially noticeable.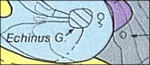 This Norris Geyser Basin geologic map (6.9 mb) shows the thermal deposits and locations of geysers and hot springs when the map was published in the 1980s – there may be some changes since then!
Yellowstone topographic maps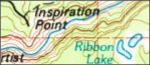 The north Yellowstone topo map (6.1 mb) focuses on the northern half of the park, extending from Mammoth Hot Springs south past Canyon Village toward Yellowstone Lake, including most popular visitor areas.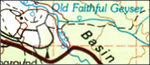 Here's a south Yellowstone topo map (6.0 mb), stretching from Yellowstone Lake south toward the border with Grand Teton National Park – this map features Old Faithful as well as remote parts of Yellowstone.
Various Yellowstone maps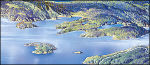 This Yellowstone panorama map (8.4 mb) is not the best for trip planning, but the southwest-looking view over the park is sure fun to look at and dream when planning your Yellowstone National Park vacation.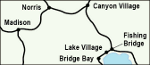 The simple Yellowstone map (30 kb) is a printable easy-to-read map that just shows the basic layout of Yellowstone's points of interest with no extra detail. It's best for when you just want the basics.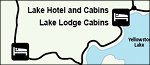 This is a Yellowstone lodging map (30 kb). This map has the same base layer as the previous one, but of lodging facilities marked rather than points of interest, making it easy to compare your lodging options.
Yellowstone Lake maps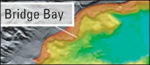 Here's a Yellowstone Lake map (800 kb) showing the varying depths of the lake across its area – note the amazing depth of West Thumb! This is also known as a bathymetric chart.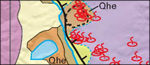 This Yellowstone Lake geologic map (3.0 mb) shows the rock layers underneath Yellowstone Lake and includes inset maps showing points of geological and topographic interest.
Yellowstone map prints and gifts


Printed high-resolution Yellowstone map posters and other products are available at the Yellowstone Maps store. For prints, gift ideas, and souvenirs featuring other national parks, support this site and visit the National Park Maps store; you'll find items to bring on vacation, keep at home for the memories, or give to your park-enthusiast friends and loved ones.
…and more!
< Return to National Park Maps home
< Return to Park List
< Return to List by State
Need more planning help? Browse Amazon's best selling Yellowstone maps and guidebooks.