If you're looking for a Timpanogos Cave map, you've come to the right place; currently I've collected 5 free Timpanogos Cave National Monument maps to view and download. (PDF files and external links will open in a new window.) On this page you'll find maps of the monument itself as well as the surrounding area. You can also browse the best-selling Utah maps and guidebooks on Amazon.
Timpanogos Cave trail map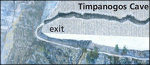 This is a Timpanogos Cave trail map (2.3 mb) – the same map that's displayed on the wayside exhibit outside the park visitor center. It shows a cross-section of the cave and the trail to get you there.
Timpanogos Cave area maps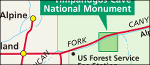 Here's a regional Timpanogos Cave map (250 kb), showing the main cities, roads, highways, and points of interest in this beautiful area of the Wasath Range in Utah.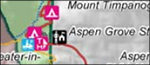 The Timpanogos Cave recreation map (900 kb) highlights the surrounding region in the American Fork Canyon, including a bunch of campgrounds nestled in the canyons in Uinta National Forest.
Timpanogos Cave vegetation map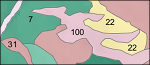 This vegetation map of Timpanogos Cave (350 kb) shows the various forest types in the monument and labels them with the dominant tree species – white fir, douglas fir, box elder, and so on.
…and more!
< Return to National Park Maps home
< Return to Park List
< Return to List by State
Need more planning help? Browse Amazon's best-selling Utah maps and guidebooks.