If you're looking for a Niobrara map, you've come to the right place; currently I've collected 4 free Niobrara National Scenic River maps to view and download. (PDF files and external links will open in a new window.) On this page you'll find maps that cover the entire park and also ones that show the surrounding region. You can also browse the best-selling Nebraska maps and guidebooks on Amazon.
Niobrara map from the park brochures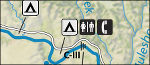 This is the official Niobrara map showing the full 75 miles of river's length in the park, ending near Valentine. Click the image to view a full size JPG (2.0 mb) or download the PDF (12.9 mb).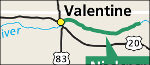 Here's a regional Niobrara River map (130 kb), which shows the surrounding highways between I-80 and I-90 and towns nearby the Niobrara River in Nebraska, South Dakota, and other nearby states.
Niobrara vegetation map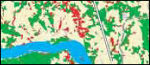 This vegetation map of Niobrara (1.2 mb) is a composite of two different maps and shows the various types of ecosystems that you'll find at Niobrara National Scenic River – mostly prairie and coniferous forest.
…and more!
< Return to National Park Maps home
< Return to Park List
< Return to List by State
Need more planning help? Browse Amazon's best-selling Nebraska maps and guidebooks.