If you're looking for an Everglades map, you've come to the right place; currently I've collected 16 free Everglades National Park maps to view and download. (PDF files and external links will open in a new window.) I've got a few maps that focus on water trails, some on hiking trails, and of course a couple that cover the entire national park. You can also browse the best-selling Everglades maps and guidebooks on Amazon.
Everglades map from the park brochure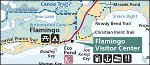 This is the main Everglades map from the official park brochure. Click the image to view a full size JPG (2.6 mb) or download the PDF (4.1 mb). (This is one of the most beautiful national park maps.)
Everglades trail maps (land and water)


The Everglades National Geographic Trails Illustrated map from Amazon is more detailed than the free maps below, and shows the hiking and paddling trails in the park. However, it doesn't have enough detail to use for navigation by water – you should instead rely on navigation charts from NOAA or other specialty maps for that purpose. However, for general visiting, the trails illustrated map works well.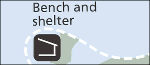 Here's an Anhinga Trail map (150 kb), the first trail you encounter after passing the Ernest F. Coe Visitor Center. This boardwalk is a good spot for birdwatching and viewing alligators.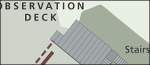 The Pa-hay-okee Trail map (100 kb) shows the very short path out to the observation deck, where you can make a loop. This trail is located off the main park road that leads to Flamingo.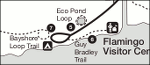 This Flamingo area hiking trail map (200 kb) shows the variety of trails that depart from near the Flamingo Visitor Center and campground. Included are descriptions and distances for each trail.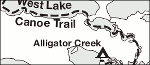 Here's a Flamingo area canoe trail map (250 kb), showing the popular canoe route to backcountry camping opportunities. Each trail is labeled with a short text description of the route and regulations.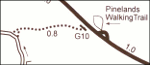 This is a Long Pine Key trail map (400 kb), showing both hiking and biking trails just off the main park road, as well as the Long Pine Key Campground and picnic area.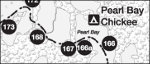 This is a map of Hell's Bay canoe trail (300 kb), located in an Everglades Mangrove Swamp northeast of Flamingo. The map shows trail markers you'll follow along this water route.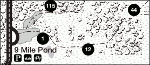 This is a map of 9 Mile Pond canoe trail (400 kb), located northeast of Hell's Bay (above). This is more marshy with fewer mangroves than Hell's Bay. Text descriptions explain what you'll find along the route.
Everglades lodging map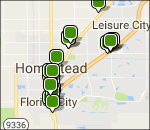 To the right is a Hotels.com interactive Everglades lodging map, focusing on the city of Homestead, located outside the main entrance of Everglades. If you want more options you could stay further away in Miami, but Homestead and Florida City are nearest the entrance and have many good options. Browse Expedia's top-rated Everglades lodging (or Hotels.com) to compare prices, locations, photos, and reviews.
More Everglades water maps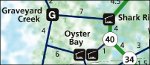 This is an Everglades wilderness campsite map (750 kb), showing popular water routes and campsites along the Gulf Coast between Flamingo and Everglades City. Mileages are included.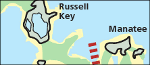 This is a map of Florida Bay (900 kb), accessible from Flamingo and also from places in the Florida Keys, such as Key Largo and beyond. There's a lot of shallow water here, so be careful to use the marked passes!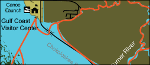 This is a Gulf Coast water route map (150 kb), showing some of the popular paddling routes around the Gulf Coast Visitor Center near Everglades City in the far northwest corner of Everglades National Park.
Flamingo area map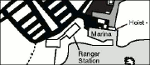 This is a detail map of the Flamingo area (100 kb) – the furthest one can drive into the Everglades. This map shows the marina, ranger station, gift shop, and several loops of the Flamingo Campground.
Various Everglades maps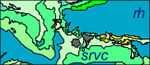 This crazy, chaotic Everglades geologic map (4.5 mb) shows the rock types as well as plant, vegetation, and water features in and around the national park.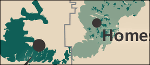 Here's a pinelands map (70 kb) that shows the reduction in pinelands habitat in the Everglades since 1900. Over 98% of the pinelands in South Florida have now been lost.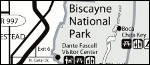 This South Florida national parks map (300 kb) is easy to print and shows Everglades points of interest along with other nearby parks – Big Cypress, Biscayne, and Dry Tortugas.
Everglades map prints and gifts


Printed high-resolution Everglades map posters and other products are available at the Everglades Maps store. For art prints, gift ideas, and souvenirs featuring other national parks, support this site and visit the National Park Maps store; you'll find items to bring on vacation, keep at home for the memories, or give to your park-enthusiast friends and loved ones.
…and more!
< Return to National Park Maps home
< Return to Park List
< Return to List by State
Still need planning help? Browse Amazon's best-selling Everglades maps and guidebooks.