If you're looking for a Devils Tower map, you've come to the right place; currently I've collected 5 free Devils Tower National Monument maps to view and download. (PDF files and external links will open in a new window.) On this page you can find the official National Park Service map to go along with a topographic map and geologic map of the park. You can also browse the best-selling Devils Tower maps and guidebooks on Amazon.
Devils Tower map from the park brochure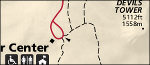 Here's a Devils Tower National Monument map, showing the roads, trails, visitor center, campground, and picnic areas. Click the image to view a full size JPG (175 kb) or download the PDF (1.2 mb).
Devils Tower land cover map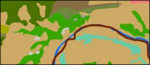 The Devils Tower land cover map (250 kb) shows what you'll find on the ground everywhere in the park – ponderosa pine forest, sagebrush, cottonwood woodlands, grasslands, bare rock, etc.
Devils Tower geologic map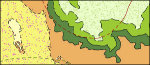 Here's a geologic map of Devils Tower (3.0 mb), which may not be incredibly useful for trip-planning but it's certainly great for learning about the park! It includes the surrounding Wyoming region as well.
Devils Tower topo map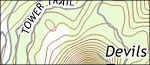 Here is a topographic map of Devils Tower and the surrounding area, including many of the roads and trails. It is unfortunately only available as a PDF download (17.0 mb).
…and more!
< Return to National Park Maps home
< Return to Park List
< Return to List by State
Need more planning help? Browse Amazon's best-selling Devils Tower maps and guidebooks.