If you're looking for a Badlands map, you've come to the right place; currently I've collected 11 free Badlands National Park maps to view and download. (PDF files and external links will open in a new window.) Here I've got some bike maps, campground map, and full park maps to enjoy. You can also browse the best-selling Badlands maps and guidebooks on Amazon.
Badlands map from the park brochures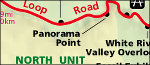 This is the main Badlands map from the official brochure, showing both the north and south unit of the park. Click the image to view a full size JPG (900 kb) or download the PDF (350 kb).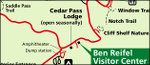 This is a detail map of the Cedar Pass area in Badlands, showing the main visitor center and most popular trails. Click the image to view a full size GIF (60 kb) or download the PDF (60 kb).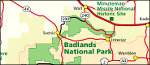 This is a regional Badlands National Park map, showing the area roads and nearby parks like Mount Rushmore and Wind Cave. Click the image to view a full size JPG (200 kb) or download the PDF (70 kb).
Badlands trail map


Badlands National Park unfortunately doesn't have much in the way of free trail maps available. Instead, if you plan to do a decent amount of hiking, you'll want a National Geographic Trails Illustrated map. Not only does it show the roads and overlooks in more detail, but it also has all the hiking trails and GPS coordinates. For about $10, it's a good investment both for safety and peace of mind.
Badlands bike maps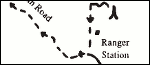 Here is a Badlands bike map (60 kb) of the Sage Creek Loop, following both paved and unpaved roads including the Sage Creek Rim Road. A text description of the route is also included for clarity.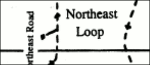 This is a bike map of the Northeast Loop (150 kb), including descriptions of a 27-mile and 17-mile route you can follow from the Ben Reifel Visitor Center. Both routes explore north from the visitor center.
Badlands lodging map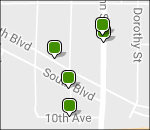 The nearest town with lodging options to Badlands is Wall; to the right you can open a Hotels.com interactive lodging map that shows the Wall hotel locations. If you're looking to stay a bit closer to the Black Hills and Mount Rushmore, you could also consider Rapid City, further to the west. Check out Expedia's top-rated Badlands lodging (or Hotels.com's) to compare photos, reviews, and prices for your different options.
Badlands geologic maps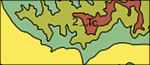 Here's a Badlands geologic map (3.5 mb) that focuses on the main northeast area of the park, where most visitor services and facilities are located (and where you're most likely to spend time on your visit).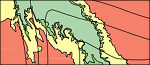 This Badlands west geologic map (1.7 mb) shows the area (shockingly) to the west of the previous map above, featuring tons and tons of Pierre Shale, which was originally deposited underwater.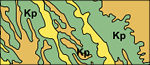 The Badlands south geologic map (2.3 mb) includes the Pine Ridge Indian Reservation lands as well as the southern part of the national park, which receives much fewer visitors than the areas north.
Badlands campground map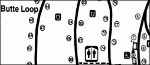 This is a map of the Cedar Pass Campground (100 kb) in Badlands National Park. It shows each of the different campsite loops, as well as water, restrooms, amphitheater, parking, and trails.
Badlands vegetation map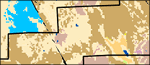 This is a Badlands vegetation map (2.4 mb), labeling the various vegetation types found in Badlands National Park and in the surrounding area. Yes, it's a lot of brush and shrubs!
…and more!
< Return to National Park Maps home
< Return to Park List
< Return to List by State
Still need planning help? Browse Amazon's best-selling Badlands maps and guidebooks.