This page complements the Arches National Park maps page; here you'll find the same maps but with much longer text descriptions to help you plan your trip. (The other page is meant to get you the maps with no fuss, no frills.) For more Arches trip planning, you can also browse the best-selling Arches maps and guidebooks on Amazon. Otherwise, read on for my rambling, opinionated, somewhat-coherent guide to Arches maps.
Official NPS maps of Arches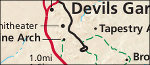 Here's the newest Arches map, which was updated by the Park Service for the summer of 2015. The map shows the entire national park (all roads and trails) and works well for saving to your phone or tablet. If you want separate maps for different individual parts of the park (such as Delicate Arch or Devils Garden), scroll down a bit to where I cropped them into smaller sizes for you. Click the image to view a full size JPG (1.6 mb) or download the PDF (10.4 mb).
This is the 2014 Arches National Park map, showing roads, hiking trails, campgrounds, and various named arches. This is no longer the newest Arches map (the one above took that crown), but I'm keeping it available here because the file size is much smaller, especially if you want the PDF. And really, it's basically the exact same map as above but with some minor formatting differences. Click the image to view a full size JPG (1.2 mb) or download the PDF (2.6 mb).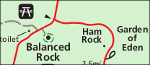 This is a simple map of Arches National Park, showing roads, hiking trails, and various named arches like the one above, but in an easier-to-print format. This one is best if you just want something very easy to read (no distracting backgrounds) or one to print. Sometimes less pretty is better! Click the image to view a full size GIF (200 kb).
OK, here below are the cropped-down versions of the full park map, in case you just want a couple specific areas. I find it can be easier to print or save a small map to your phone instead of viewing the entire park each time, especially if you're just wanting to refernece it while on the trail. I put them here in a south-to-north order just as you'd encounter them on your way into the park.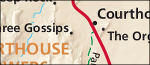 The Park Avenue map shows the 1-mile Park Avenue trail, which is the first one you encounter as you drive into the park. It's a nice intro to arches! That said, don't expect to actually see an Arch on this trail – it's mostly to view some spectacular rock formations such as Wall Street, the Courthouse Towers, Three Gossips, Tower of Babel, and other ridiculously-named features. The best way to do this is to get dropped off at the southern trailhead, walk north, and get picked up at the Courthouse Towers Viewpoint. That way you get to walk all downhill and don't have to backtrack. I hope you're traveling with someone who loves you enough to be your shuttle driver! Otherwise, just hike the one mile down and back – it's not very far and the features do look different on the return journey. Click the image to view a full size JPG (90 kb).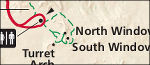 This Windows map shows a very popular (read: congested) area of Arches. Traveling with someone who can't do much hiking and needs to stick with the car? Here you go! You'll get some nice arch views from the road. If you want to get closer, no problem – it's a very short, easy hike to each of these formations. In terms of time, this is the best bang-for-your-buck if you want to see as much as you can in as little time as possible. But, please, for God's sake, stay on the trail! Desert soil is incredibly fragile so please keep your footprints to the maintained trail and to solid rock. No sand! When walking on sand, you destroy the cryptobiotic soil that is needed to sustain plant life. If you're driven crazy by watching visitors wander aimlessly all over the place, prepare to have your blood pressure raised here. Click the image to view a full size JPG (70 kb).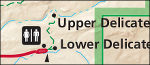 Ah yes, the Delicate Arch map. Delicate Arch is unquestionably the icon of the park and even the icon of Utah – you see it on license plates, billboards, and just about everything. There are two lower viewpoints that view the arch from afar, but you want to park at Wolfe Ranch and hike the 1.5 miles (one-way) to the base of Delicate Arch. Beware – you will not have this trail to yourself! Everyone wants to see Delicate Arch, and I don't blame them (it's spectacular). The trail has almost no shade, so go in the morning to beat the heat and the crowds (even though the lighting isn't quite as good). The best lighting on Delicate Arch is at sunset, but everyone knows that, so be prepared for company then. And be careful – the parking lot is very large but it can fill up. Woe to you if that's the case; even if you find parking, you're going to be sharing the trail and viewpoint with hundreds of fellow visitors. Click the image to view a full size JPG (100 kb).
If you want to do a longer hike and see a few arches, get this Devils Garden map and be on your way. You can see a number of arches in a relatively short time including the spectacular Landscape Arch. Each arch beyond also has its own personality and even the trail itself is a blast to hike. I would strongly recommend at least hiking out to Double O Arch because of the incredibly fun trail route over sandstone fins. If you can, include the entire Primitive Loop on your hike – the area near Private Arch and east is a ton of fun as you scramble over ledges and fins. Do this hike early before the crowds – the parking does fill up and you'll have way more fun if you beat the crowds and get the arches to yourself. And one last tip: you can skip the side trail to Dark Angel. It's not an arch – just a pillar much like many of the others you've seen. That said, it'll be quiet out there and you do get views of Salt Valley and can see the La Sal, Abajo, and Henry Mountains. Click the image to view a full size JPG (120 kb).
Arches trail and hiking maps


If you're looking for an Arches trail map that covers the entire park, you should probably go with the National Geographic Trails Illustrated map from Amazon. Although there's not necessarily a ton of backcountry hiking options in the park, the wide variety of different day hikes means a comprehensive trail map like this is quite useful. The display of distances between points is a particularly nice touch.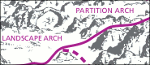 This is the Devils Garden trail map. My description above of the Devils Garden trail naturally still applies here. I like this map since it does show the route in a more three-dimensional manner and gives you a sense of where the trail goes through rock formations and where it's a bit more boring through sand. Here's a bonus tip I didn't mention above: if you're going to do one set of side trails and can't decide whether to do Tunnel/Pine Tree arches or Navajo/Partition arches…? Navajo and Partition are the way to go. Just note that it is more strenuous as the trail continues past Landscape Arch, but it's totally worth it. Go out to Double O and complete the loop for the best experience. Click the image to view a full size GIF (100 kb).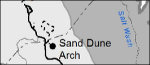 This map is tricky – it's an Arches backpacking map and shows the legal camping zones in Arches. Legal camping (besides campgrounds) is one mile from any road and a half mile from any designated trail. That means this map probably doesn't apply to you – are you really going to be doing off-trail hiking while you're in the park? (And if you are, please make sure you know what you are doing.) But it's still helpful – note that it shows that all of Lost Spring Canyon is open for backpacking. And if you're not sure what that is, that's totally fine – you shouldn't be going there anyway unless you've been doing your research and are experienced in canyon country travel. Click the image to view a full size JPG (75 kb).
Arches area camping map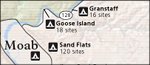 Arches only has one campground, so you may want this campgrounds outside Arches map. You'll see a ton along the Colorado River on Highway 128 – the ones closest to Moab typically fill up first, although the Big Bend campgrounds are nice. See too that there are campgrounds downstream of Moab along the Colorado River – these tend to be quieter since the roads alongside are not through-roads and get less traffic. This is kind of a big deal, as some of the sites along 128 are right along the road. Click the image to view a full size JPG (500 kb).
Arches topo maps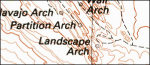 More Devils Garden: this time a Devils Garden topographic map. I feel like I've beaten the Devils Garden horse to death at this point, so I won't say much here. Note that this does also include the trails heading south from the campground toward Sand Dune Arch, Skyline Arch, and Broken Arch. And a bit sad: Wall Arch (near Landscape Arch) no longer exists; it collapsed in 2008. Click the image to view a full size JPG (2.1 mb) or download the PDF (10.0 mb).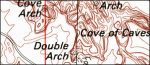 If you are exploring the Windows, take a look at the Windows topo map. It actually includes some other parts of Arches; note the Delicate Arch Trail continuing juuuuuust off the map in the northeast corner. (This map has probably 95% of the trail, missing only the very end.) You'll also see the Fiery Furnace here – note that permits are required to visit this area, either with or without a ranger. Also much of the Park Avenue trail fits on this map as well. Click the image to view a full size JPG (2.5 mb) or download the PDF (12.1 mb).
More information
View the no-frills Arches Maps page to access all these same maps without needing to scroll through all my rambling advice!
Visit the official Arches National Park website.
< Return to National Park Maps home
< Return to Park List
< Return to List by State
< Return to Latest Updates