If you're looking for a Washita Battlefield map, you've come to the right place; currently I've collected 6 free Washita Battlefield National Historic Site maps to view and download (PDF files and external links will open in a new window.) On this page you'll find the official park brochure map and a few others focusing on specific topics. You can also browse the best-selling Oklahoma maps and guidebooks on Amazon.
Washita Battlefield brochure map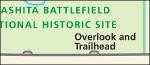 This is the official Washita Battlefield map from the park brochure, showing the battlefield area as well as the visitor center. Click the image to view a full size JPG (150 kb) or download the PDF (200 kb).
Historical Washita Battlefield maps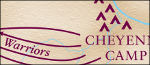 Here's a Battle of Washita map (300 kb) showing the events of November 27, 1868, where George Custer's U.S. Cavalry unit attacked the Cheyenne village of Chief Black Kettle along the Washita River.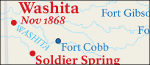 This is a regional battle map, showing the locations of various battles that took place between United States troops and local tribes. Click the image to view a full size JPG (300 kb) or download the PDF (1.0 mb).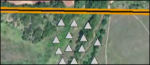 The Black Kettle Camp map (100 kb) shows where Chief Black Kettle's camp was located on the Washita River. This map uses a present-day satellite photo to illustrate the camp's location.
Washita Battlefield vegetation map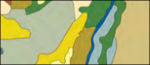 Here's a vegetation map of Washita Battlefield (150 kb), mapping out the various plants communities you'll find in the park: forests, woodlands, shrublands, and grasses.
…and more!
< Return to National Park Maps home
< Return to Park List
< Return to List by State
Need more planning help? Browse Amazon's best-selling Oklahoma maps and guidebooks.