If you're looking for a Rainbow Bridge map, you've come to the right place; currently I've collected 4 free Rainbow Bridge National Monument maps to view and download. (PDF files and external links will open in a new window.) Here you'll find general maps of the map as well as a topographic map. You can also browse the best-selling Utah guidebooks on Amazon.
Rainbow Bridge map from the park brochure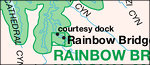 This is the official National Park Service Rainbow Bridge map, showing the monument's location near Lake Powell and Glen Canyon. Click the image to view a full size JPG (300 kb) or download the PDF (200 kb).
Rainbow Bridge topographic map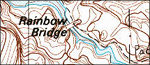 Here's a Rainbow Bridge topo map (4.4 mb), which zooms in to show the elevation contours. Note that the current lake level might be quite a bit different than this map – Lake Powell can fluctuate substantially.
Rainbow Bridge geologic map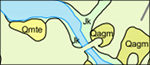 This Rainbow Bridge geologic map (400 kb) shows the more recent surficial deposits that are found overlaid on an endless field of Navajo Sandstone – the classic rock layer found in many Utah national parks.
…and more!
< Return to National Park Maps home
< Return to Park List
< Return to List by State
Need more help? Browse Amazon's best-selling Utah guidebooks.