Now that you've got your free maps, maybe you're looking for something more. Souvenirs for when you return? Gifts for friends and family? Items to bring on your trip? Here you'll find all this on the National Park Maps store. Look through the categories below and follow the links to check out some of the different map products. Or, you can browse by park if you want to see all map items available for your preferred park. 
Map posters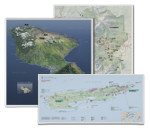 Browse the national park map posters to order a map on high-quality matte poster paper. They're suitable for framing – perfect for your wall at home or a gift. You can order them in a bunch of custom sizes and dimensions, but take care to make sure you don't crop out part of the map you want if you change the default size. Or just download the maps for free and print them yourself; park rangers also send free folded brochures.
Map symbol t-shirts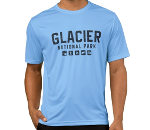 Take a look at the national park t-shirts that feature the official national park service map and sign symbols. Each park's t-shirt includes five symbols that represent the park's most popular activities, such as hiking, camping, fishing, bicycling, climbing, and so on. The shirts are fully customizable, whether you just want to change the color or switch out the t-shirt for a hoodie, sweatshirt, tank top, or workout clothes.
Map mugs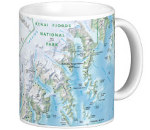 Sip your morning coffee or tea from one of the national park map mugs. Buy one after your visit as a souvenir to reminisce about your vacation travels, or get one before you go to bring along with you. You can customize each mug's map to show the exact area of your park that you want. Order a few to fill your kitchen with parks; next time you have guests, you can ask, "Do you want Yellowstone or Yosemite?"
Map symbol hats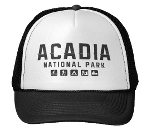 What's more important than wearing a hat while you're out in a park? A sunburned face (or even worse – scalp!) is a great way to ruin a vacation. Take a look at the national park hat collection to find a hat for your favorite park. Each one features the official NPS symbols that you'll find on maps and signs, with different symbols to represent the popular activities at different parks. And choose your own color!
Map bandanas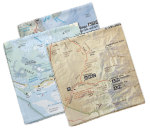 Browse the collection of national park map bandanas, where you'll find official NPS maps on bandanas to wear while hiking and traveling the parks. Don't worry about losing a paper map – wear this and you'll never get lost again! Each map bandana is fully customizable; you can zoom the map in or out to show the area of the park or trails you want. These make great gifts for your park-loving friends and family.
Map blankets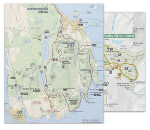 Bring along a national park map fleece blanket on your trip to stay warm in your tent, RV, or hotel room. These machine-washable fleece blankets work great on your vacation and are nice souvenirs to have back at home to remind you of your adventures. These are available in small, medium, and large, and are fully customizable to adjust the map zoom to the exact area of your liking.
Map puzzles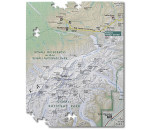 What better way to learn about a park than put together a puzzle of it? Here you can browse national park map jigsaw puzzles and order a 252-piece 11×14-inch map puzzle of the park you'll soon be visiting. Each puzzle is customizable so you can zoom the map to the area of the park you prefer. Put it together before your trip or bring it along with you for a fun activity in your hotel or campground. You'll be an expert in no time!
Map backpacks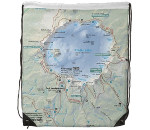 You're a lot less likely to get lost if you're wearing your map! These national park map drawstring backpacks are in the classic drawstring style and are great for carrying your water and basic hiking gear while you're out and about in the parks. Although these packs aren't heavy-duty for hardcore mountaineering, they'll carry your essentials as you explore. Customize the map zoom to show exactly what you want on the pack!
Map notebooks/journals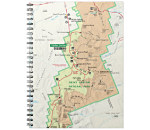 What's the best way to remember your vacation? By keeping a day-by-day journal of your adventure; here you can grab some national park map notebooks to record your memories while you're on the road. These mini-notebooks are perfect for journaling on your trip or just taking notes while doing your planning. Make sure to keep your notebook after the trip for a perfect personal national park souvenir.
Other map items
Go to the National Park Maps store homepage to browse by park and find other items that strike your fancy including refrigerator magnets, canvas prints, and more.