If you're looking for a Pictured Rocks map, you've come to the right place; currently I've collected 13 free Pictured Rocks National Lakeshore maps to view and download. (PDF files and external links will open in a new window.) You'll find a variety of maps here including hiking, skiing, backcountry, campgrounds, and the full park. You can also browse the best-selling Pictured Rocks maps and guidebooks on Amazon.
Pictured Rocks map from the official brochure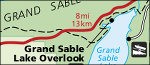 Here is the main Pictured Rocks map showing roads, trails, and visitor facilities such as picnic areas and campsites. Click the image to view a full size JPG (800 kb) or download the PDF (1.0 mb).
Pictured Rocks trail maps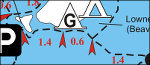 The Beaver Basin trail map (200 kb) shows the trails near Beaver Lake and Little Beaver Lake, including campsites (group sites as well as regular sites) and trail mileages between junctions.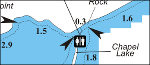 This Chapel Basin trail map (150 kb) shows the trails west of Beaver Lake, including Spray Falls, Chapel Lake, Chapel Beach, and Grand Portal Point. Mileages between points of interest are also included.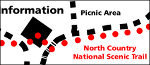 Here's a Miners Castle trail map (150 kb), showing the trails leading from the information center to the upper and lower overlooks. The North Country National Scenic Trail is also labeled.
Pictured Rocks backcountry maps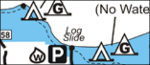 The Pictured Rocks backcountry map (270 kb) shows all the trails and campsites, indicating the group size permitted at each site and whether water is available from a nearby stream or lake.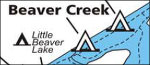 The Pictured Rocks kayaking map (350 kb) shows all the backcountry campsites that are accessible by kayak from Lake Superior and other waterways such as Beaver Lake.
Pictured Rocks campground maps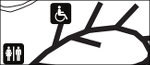 This is a Little Beaver Lake Campground map (100 kb), a small campground of only eight sites that often fills during the summer. A text description provides logistics information for this campground.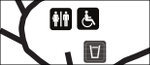 Here's a Hurricane River Campground map (130 kb), which has 21 sites and a hiking trail that leads to the Au Sable Light Station. Some of the sites do not allow generators to preserve quiet for tent campers.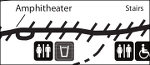 Here's a Twelvemile Beach Campground map (150 kb), which has 36 sites on a bluff near the beach, adjacent to the North Country National Scenic Trail. The White Birch Interpretive Trail makes a loop from here.
Pictured Rocks ski maps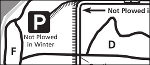 This Grand Marais ski trail map (175 kb) shows the cross-country ski trails to the east of Grand Sable Dunes (with mileages and difficulty levels for each of the possible ski loop options).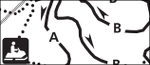 The Munising ski strail map (200 kb) shows all the cross-country ski trails in the western part of the park near the Munising Falls Interpretive Center and labels which direction you're supposed to ski each loop.
Pictured Rocks vegetation map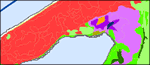 This vegetation map of Pictured Rocks National Lakeshore (1.0 mb) shows the different types of forests that make up the park – pine, spruce, hardwood, etc. It also shows other landcover like rock and peat.
…and more!
< Return to National Park Maps home
< Return to Park List
< Return to List by State
Need more help? Browse Amazon's best-selling Pictured Rocks maps and guidebooks.