If you're looking for a Pearl Harbor map, you've come to the right place; currently I've collected 12 free Pearl Harbor Memorial maps to view and download (PDF files and external links will open in a new window.) On this page you'll find maps showing the entirety of the national monument as well as others zooming in on the visitor center area. You can also browse the best-selling Pearl Harbor books on Amazon. (Note that this park is officially called World War II Valor in the Pacific National Monument, but I'm just calling it "Pearl Harbor" on this page since people actually know this name!)
Pearl Harbor exhibit map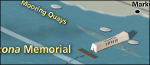 This Pearl Harbor map comes from a National Park Service outdoor exhibit located near the monument visitor center. Click the image to view a full size JPG (1.1 mb) or download the PDF (11.9 mb).
Pearl Harbor visitor center map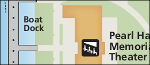 Here's the official Pearl Harbor brochure map that visitors to World War II Valor in the Pacific National Monument receive. Click the image to view a full size JPG (100 kb) or download the PDF (1.8 mb).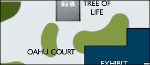 Here's an alternate visitor center map (100 kb) that zooms in on the Pearl Harbor visitor center area, showing the theater, exhibits, memorials, restrooms, book store, and surrounding grounds.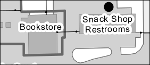 Here's a visitor center and parking map (450 kb), showing the entire area that the visitor center is located. This map is perfectly to scale and also shows the nearby USS Bowfin Museum grounds.
Historical Pearl Harbor maps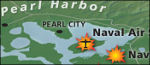 Here's a December 7, 1941 Oahu map. Here you can see the Japanese flights paths and ship arrangements around Ford Island. Click the image to view a full size JPG (600 kb) or download the PDF (5.5 mb).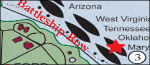 This December 7, 1941 Pearl Harbor map (250 kb) zooms in on Pearl Harbor and shows the specific locations and arrangement of the ships and facilities. It also labels a few present-day facilities.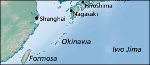 This is a 1941 Pacific Ocean map, showing the locations of the various islands that would play a major role in the Pacific Campaign. Click the image to view a full size JPG (800 kb) or download the PDF (1.9 mb).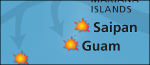 The World War II Pacific Campaign map (900 kb) shows the progression of battles between the American and Japanese forces throughout the duration of the war in the Pacific Ocean.
Other Pearl Harbor maps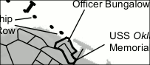 Here's a comprehensive Pearl Harbor map (600 kb) that focuses on the specific sites administered by the National Park Service, including the USS Arizona memorial as well as the Oklahoma and Utah.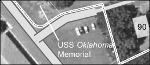 The USS Oklahoma Memorial map (500 kb) shows the location on Ford Island of the memorial to the USS Oklahoma. This is right near the USS Missouri, so you can easily visit both sites at the same time.
This USS Utah map (50 kb) is pretty small and simple, showing the parking lot and walkway. Unfortunately, you need to have a military ID to get here (or be with someone who does) since it is on the base.
…and more!
< Return to National Park Maps home
< Return to Park List
< Return to List by State
Need more help? Browse Amazon's best-selling Pearl Harbor books.