Creating this website was frustrating. "Come on Google, find this site! It's really great, I promise – people will totally like it." But over the first year of existence, I received about 20,000 total webpage views.
Over the last two days alone, I tripled that number. Wow! Thank you.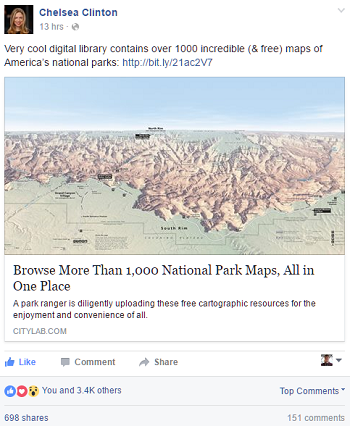 It's been so much fun seeing it spread throughout social media this week, as users (Chelsea Clinton?!) have been enthusiastically sharing blog posts about this site from CityLab, Unofficial Networks, Teton Gravity Research, Mother Nature Network, the Oregonian, Mental Floss… the list goes on.
It's been a blast. Why? It's not really a money thing – you'll notice I don't have any web ads so I can keep things as simple as possible to get you to the maps quickly. I make enough money from the Amazon map referrals to cover my web hosting fees, so I'm hoping to keep things ad free unless my web hosting costs increase from all the new traffic.
Rather, it's just fun to see my hard work appreciated; really, isn't that all we want in life? Yes, it was frustrating to try filling (what I thought was) a need and not having anyone notice, but it's totally worth it now that people have noticed.
Thank you for that. I hope I've made your national park visit a little easier and a little better.
---
I know I've been a bit slow about creating new pages over the last few weeks; honestly, summer is here and the weather is getting nice so I just haven't spent as much time indoors. I've been out visiting the parks instead of just writing about them – what a concept!
So I appreciate your patience. I've received lots of requests by email asking me to upload maps for Local Park X and Favorite Park Y. Keep them coming! It does help me decide which pages to focus on next. But this is just a "whenever I have free time" project of mine, and I find I have less free time during the summer. More will be coming! I don't plan on stopping until I have a page for each park.
And then I have national forests, state parks, BLM land…  You might as well just consider this site to be a work in progress for, say, the next 10 years.