Hey, look at that! Just a week since my last update. I know web traffic will be picking up as we get close to summer, so I'm trying to make a number of behind-the-scenes tweaks and fixes to make sure things are working smoothly. I've added a few pages since the last update:

Here's a completely brand new type of page: National Trails maps. The National Park Service manages a bunch of National Scenic and National Historic trails, many of which extend through several states. Instead of creating each trail on a separate page (which I will likely get to later), for now I put them all on a single page together. I quite like it – these are some very large maps that are fun to scroll through and study.
I created another new page that didn't result in me adding new maps… but I had fun anyway picking out a selection for the My Favorite Maps page. To be honest, I don't really have any strong reason for creating this page; no one's been asking me, "Hey, what are your favorite maps?" Really, it just came down to the fact that I really love maps and wanted to call special attention to those I thought were really well done. What more reason can you need?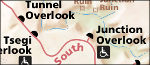 I'm making more progress on Arizona parks, with Canyon de Chelly maps finally going live. This is a unique park managed in cooperation with Navajo Parks and Recreation, as it is on tribal land.
And yes, I did complete the last of the three Flagstaff-area parks with Walnut Canyon maps. Did you know that Walnut Canyon is managed with Sunset Crater and Wupatki as effectively one park? (Now you know.)
Finally, I put up an In The News page. I'm not really a big fan of talking about myself and rather enjoy semi-anonymity, but I know from emails I've received that people are curious. So you can browse through some articles that featured this site if you want to learn more.