First up: I recently received a few emails from users asking how to stay in the loop and be notified when new maps or pages are added. A mailing list and newsletter seemed like too big of a hassle for me, so I went the route of Facebook; you can now follow the National Park Maps Facebook page and I'll post all updates to the site there. Hopefully that means you don't have to keep checking back to this Updates page all the time (which I'll of course continue updating).
Two recent emails stood out for their common theme:
From Jerilyn: Thank you for all this information. Wonderful job. I live in Vermont and could not find any of our parks. Thanks again.
From Alex: Hey Matt, I love what you're doing, but nothing for Vermont??? We've got some great parks and some darn old mountains.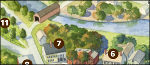 My apologies to the entire state of Vermont; I am deeply sorry if I've offended Ben, Jerry, or Bernie Sanders. So today I gave Vermont some love and added Marsh-Billings-Rockefeller National Historical Park maps, featuring five maps for now. Am I still missing states? Sure. But as of today, I am missing one fewer. And now I have my first "unnecessarily long and unwieldy park name" park added, which naturally was a tremendous oversight on my part.
So does this mean I'm saying you should all make your requests and I'll immediate add your favorite park? Well, no. Here is a selection of some of the requests I've received over the last month or so:
Gulf Islands, C&O Canal, Whiskeytown, Organ Pipe Cactus, Santa Fe Trail, Wilson's Creek, Pecos, Natchez Trace, Padre Island, Silos and Smokestacks, Herbert Hoover, Santa Monica Mountains, Fort Matanzas, Vicksburg, Cape Canaveral, Castillo de San Marcos, Morristown, Buffalo National River, Pea Ridge, George Washington Memorial Parkway, Selma to Montgomery, Mojave, Lewis and Clark, Saratoga, El Malpais, Saint Croix Riverway, Booker T. Washington, Greenbelt, Andersonville.
Whew! And that doesn't touch on the dozens of requests I got for national forests, state parks, BLM sites, and Canadian national parks. So – sure – go ahead and request a park, but as you can see I certainly have no shortage of things to do right now.