If you're looking for a Katmai map, you've come to the right place; currently I've collected 6 free Katmai National Park maps to view and download. (PDF files and external links will open in a new window.) On this page you'll find a couple maps that show the entire park as well as a map that zooms in just on Brooks Camp. You can also browse the best-selling Katmai maps and guidebooks on Amazon.
Katmai map from the park brochures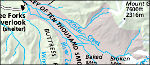 This is the complete Katmai National Park map from the official brochure, showing cabins, lodges, mountains, and rivers. Click the image to view a full size JPG (1.1 mb) or download the PDF (11.5 mb).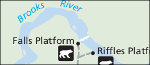 This is a detail map of Brooks Camp in Katmai National Park, showing the area around the visitor center and bear platforms. Click the image to view a full size JPG (65 kb) download the PDF (80 kb).
Katmai National Park 3D map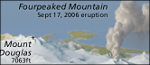 This is an oblique map of Katmai National Park (3.7 mb), showing the entire park and volcanoes in full color from a three-dimensional perspective. This map is beautiful – it's one of my favorites from any park!
Katmai trail map


Most of Katmai National Park is trail-less wilderness, so the general park map isn't going to be all that helpful for navigation. This National Geographic Trails Illustrated map shows contour lines and elevations for the entire park, and is much more useful for seeing the layout of the land (and water). If you're doing hardcore wilderness travel, you should probably get some USGS topos – otherwise this should suffice.
Various Katmai maps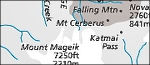 This is a Katmai flat map (2.6 mb), similar to the full park map listed first on this page but without the topographic relief, so you might find it's easier to read if you print it at home.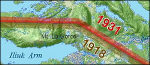 Here's a Katmai historical map (5.7 mb), showing the growth of the park over the years as new acreage was added to the national monument – what eventually became the national park we have today.
…and more!
< Return to National Park Maps home
< Return to Park List
< Return to List by State
Need more trip planning help? Browse Amazon's best-selling Katmai maps and guidebooks.