If you're looking for an Isle Royale map, you've come to the right place; currently I've collected 11 free Isle Royale National Park maps to view and download. (PDF files and external links will open in a new window.) Here you'll find some park-wide maps as well as a couple focused on specific areas. You can also browse the best-selling Isle Royale maps and guidebooks on Amazon.
Isle Royale map from the park brochures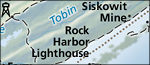 This the new 2016 Isle Royale map (900 kb), combining the two maps below into one with new graphics, labels, and orientation. I think it looks a bit nicer and has a less cartoony look.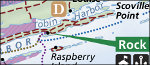 This is the previous official Isle Royale National Park map from the brochure, showing campgrounds, trails, and boat routes, and lakes. Click the image to view a full size JPG (600 kb) or download the PDF (1.6 mb).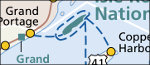 This is regional map of Isle Royale, showing Lake Superior and ferry routes from Houghton, Copper Harbor, and Grand Portage. Click the image to view a full size JPG (100 kb) or download the PDF (50 kb).
Detailed Isle Royale maps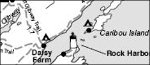 This is a detail  map of the Rock Harbor area (200 kb), showing trails,locations of campsites, scenic overlooks, and points of interest near Rock Harbor in the northeastearn portion of Isle Royale.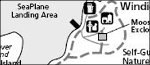 This is a Windigo map (100 kb), showing trails, campgrounds, overlooks, and points of interest in the Windigo developed area on the western end of Isle Royale on Washington Harbor.
Isle Royale trail map


Isle Royale is a popular destination for backcountry hikers, and a detailed trail map such as the National Geographic Trails Illustrated map from Amazon is a great choice for taking into the Wilderness. It shows trails, topographic lines, and water depths, and includes mileages and distance between trail junctions and points of interest. It's easily worth the $10 and is an absolute necessity for long hiking and overnight camping.
Miscellaneous Isle Royale maps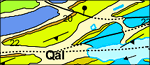 The Isle Royale geologic map (1.6 mb) is pretty intense! You'll find an incredible number of rock types – conglomerates and volcanics – mixed into the very tiny area of Isle Royale.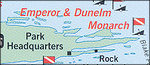 This is an Isle Royale dive map (120 kb), showing the location of the surprisingly large number of shipwrecks to explore. You can learn more about diving these sites from the National Park Service.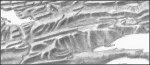 Here's an Isle Royale relief map (200 kb), removing all details except the physical geography of the island. This map makes it easier to see the layout of the ranges as parallel folds.
Isle Royale lodging map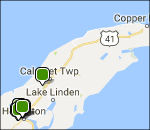 Isle Royale is tough to get to, with most riding a boat from Copper Harbor, MI. If you're looking to stay somewhere the night before arriving, you may want to browse the Hotels.com interactive lodging map on the right. You can see that Houghton is the nearest "big" city with more than a couple options, and you can browse Expedia's top-rated Houghton lodging (or Hotels.com's) to compare guest reviews and prices.
Isle Royale vegetation maps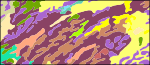 The Isle Royale vegetation map (1.7 mb) shows the variety of forest ecosystems growing across Isle Royale, labeled with the dominant tree species of each – forests, woodlands, shrublands, and shorelines.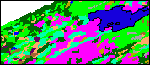 This simple Isle Royale vegetation map (40 kb) is admittedly is a bit hard to read but shows a more basic composition of forests across Isle Royale in less detail than the map above, with fewer categories.
Isle Royale map prints and gifts


Printed high-resolution Isle Royale map posters and other products are available at the Isle Royale Maps store. For prints, gift ideas, and souvenirs featuring other national parks, support this site and visit the National Park Maps store; you'll find items to bring on vacation, keep at home for the memories, or give to your park-enthusiast friends and loved ones.
…and more!
< Return to National Park Maps home
< Return to Park List
< Return to List by State
Need more planning help? Browse Amazon's best-selling Isle Royale maps and guidebooks.