If you're looking for an Indiana Dunes map, you've come to the right place; currently I've collected 8 free Indiana Dunes National Lakeshore maps to view and download. (PDF files and external links will open in a new window.) The maps here include full-park maps as well as detailed maps showing individual popular trails within the park. You can also browse the best-selling Indiana Dunes maps and guidebooks on Amazon.
Indiana Dunes map from the official brochures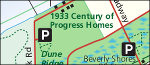 Here is the official Indiana Dunes map, showing each section of the park along Lake Michigan from Gary to Michigan City. Click the image to view a full size JPG (650 kb) or download the PDF (1.8 mb).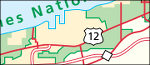 This is a regional map of Indiana Dunes, showing the park in relation to Chicago and the various interstate highways. Click the image to view a full size JPG (80 kb) or download the PDF (500 kb).
Indiana Dunes trail maps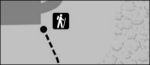 This is a Dune Ridge trail map (150 kb), located just east of Indiana Dunes State Park on the way to Kemil Beach and other beach access points. You can make this hike a short loop.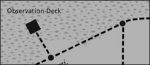 Here's the Great Marsh trail map (80 kb), located east of the state park near the Calumet bike trail and the town of Beverly Shores. You'll find an observation tower and two parking lots to access this trail.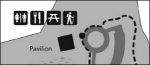 This Portage Lakefront and Riverwalk trail map (90 kb), located in Portage west of the Port of Indiana along the Burns Waterway. This short trail is less than one mile and runs directly north/south.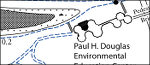 Here's a Miller Woods trail map (180 kb), located in the far western part of the park adjacent to the Paul H. Douglas Center for Environmental Education. It has a loop trail, boardwalk, and picnic area.
Indiana Dunes campground map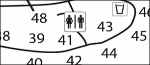 This is a Dunewood campground map (200 kb), showing both the Douglas and Mather loops in this 66-site campground near Great Marsh. Also labeled are restrooms, showers, and nearby convenience stores.
…and more!
< Return to National Park Maps home
< Return to Park List
< Return to List by State
Need more help? Browse Amazon's best-selling Indiana Dunes maps and guidebooks.