If you're looking for a Guadalupe Mountains map, you've come to the right place; currently I've collected 6 free Guadalupe Mountains National Park maps to view and download. (PDF files and external links will open in a new window.) You'll find here both a full park map as well as a regional map showing the nearby area around Guadalupe Mountains. You can also browse the best-selling Guadalupe Mountains maps and guidebooks on Amazon.
Guadalupe Mountains map from the park brochures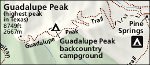 This is the official Guadalupe Mountains map from the brochure, showing roads, trails, and Guadalupe Peak. Click the image to view a full size JPG (600 kb) or download the PDF (2 mb).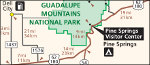 This is a regional Guadalupe Mountains map, showing area roads, nearby towns, and Carlsbad Caverns National Park. Click the image to view a full size JPG (100 kb) or download the PDF (700 kb).
Guadalupe Mountains trail maps


Unfortunately I haven't been able to find a good free trail map covering all of Guadalupe Mountains. However, National Geographic does make a nice Trails Illustrated map of the park, which includes topographic lines and trail mileages. This map is especially great if you're doing longer hikes up Guadalupe Peak or into the wilderness doing backcountry camping. If you're just driving through the park, this map isn't really necessary.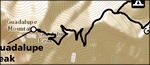 Here's a Guadalupe Peak trail map (200 kb), showing the trail that climbs to Texas' highest point. This map includes topographic lines and shows the alternate route where the stock trail diverges from the hiking route.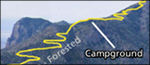 This shows the Guadalupe Peak trail map overlaid on a photo (250 kb). This really gives you a sense of the elevation gain that must be tackled to reach the summit of the peak! The reward is well worth the effort.
Guadalupe Mountains lodging map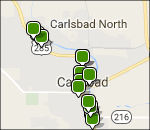 When you're visiting an isolated park like Guadalupe Mountains, you can't expect to stay right at the park entrance. To the right is a Hotels.com interactive lodging map of Carlsbad, NM — the closest town the park. You may also want to browse Expedia's best Guadalupe Mountains lodging (and Hotels.com) where you can read guest reviews, view photos, compare prices, and narrow in on where to stay.
Guadalupe Mountains geologic map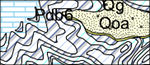 The Guadalupe Mountains geologic map (7.0 mb) includes both surficial deposits as well as bedrock geology, showing areas both inside and outside the park. Note how the rocks change once you leave the park!
…and more!
< Return to National Park Maps home
< Return to Park List
< Return to List by State
Need more help? Browse Amazon's best-selling Guadalupe Mountains maps and guidebooks.