If you're looking for a Denali map, you've come to the right place; currently I've collected 13 free Denali National Park maps to view and download. (PDF files and external links will open in a new window.) Some of these maps cover the entire park, while others focus on specific areas such as the entrance trails and campgrounds. You can also browse the best-selling Denali maps and guidebooks on Amazon.
Denali map from the park brochures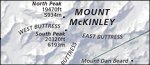 This is the official Denali map from the park brochure, showing roads, mountains, campgrounds, and points of interest. Click the image to view a full size JPG (2.8 mb) or download the PDF (11.4 mb).
This is a detail map of Denali park entrance area, including the Riley Creek campground and Denali Visitor Center. Click the image to view a full size JPG (200 kb) or download the PDF (200 kb).
Denali trail map


There's not much in the way of good free trail maps of Denali online, but the National Geographic Trails Illustrated map is definitely the best one that covers the entire park. It shows the various points of interest along the Wonder Lake Road and throughout the rest of the park. That said, it's not sufficiently detailed for climbing or off-trail travel; since it shows the entire park, it has to sacrifice detail in order to cover everything.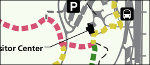 Here's a Denali entrance area trail map (650 kb), focusing on the trails near the beginning of the Wonder Lake road. You'll also find here a table of trail distances and descriptions of each route.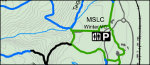 This is a Denali entrance area winter map (400 kb), showing the ski and snowshoe routes at the park entrance. They're color-coded by difficult level, allowing you to choose easy, intermediate, or difficult ones.
Denali road map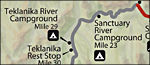 This is a Denali Park Road map (150 kb), showing campgrounds and points of interest along the 89 miles to Wonder Lake and Kantishna. It also shows which parts you can drive and which are shuttle bus only.
Denali lodging map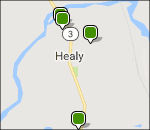 Most visitors who want to stay nearby Denali end up in Healy, which has a number of lodging options. To the right you can view a Hotels.com interactive lodging map of Healy, which is the nearest town to Denali National Park's entrance. Or you may want to start out by browsing Expedia's best-rated Denali lodging (or Hotels.com's) in order to compare prices, read reviews, and view photos.
Denali campground maps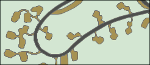 This is a Riley Creek Campground map (90 kb). Riley Creek is the largest campground in the park and is located near the park entrance and Denali Visitor Center. Here you'll see each campsite and the restrooms.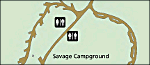 This is a Savage River Campground map (200 kb). This campground is located 13 miles west along  the Park Road and has 33 campsites. This map also shows nearby trails and viewpoints.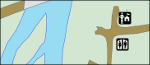 This is a Sanctuary Campground map (40 kb). Sanctuary is a small tent-only campground along the Sanctuary River, featuring only seven campsites. This is about as rustic and quiet as you can get!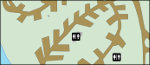 This is a Teklanika River campground map (200 kb). Tek River Campground is the second largest in the park and is located 29 miles west along the Park Road. This map shows the two loops and restrooms.
Denali geologic maps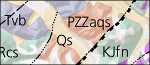 Here's a Denali geologic map (3.6 mb), showing all the rock layers within the national park boundary. This map labels the rock types, but you'll need to download the map below for a legend identifying each one.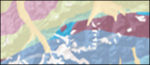 This geologic map of Denali (2.2 mb) zooms out from the one above and shows much of surrounding Alaska. It also includes a legend, identifying all the rock layers found on these two maps.
Artistic Denali map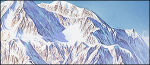 Although the Denali panorama map (1.1 mb) is not super helpful for planning your trip since it doesn't label anything, it's too beautiful to not share. Aren't you ready to visit now?
Denali map prints and gifts


Printed high-resolution Denali map posters and other products are available at the Denali National Park Maps store. For art prints, gift ideas, and souvenirs featuring other national parks, support this site and visit the National Park Maps store; you'll find items to bring on vacation, keep at home for the memories, or give to your park-enthusiast friends and loved ones.
…and more!
< Return to National Park Maps home
< Return to Park List
< Return to List by State
Need more planning help? Browse Amazon's best-selling Denali maps and guidebooks.