If you're looking for a Congaree map, you've come to the right place; currently I've collected 8 free Congaree National Park maps to view and download. (PDF files and external links will open in a new window.) You'll find a few hiking trail maps as well as one of the full national park. You can also browse the best-selling South Carolina maps and guidebooks on Amazon.
Congaree map from the park brochure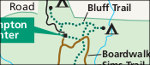 This is the official Congaree National Park map from the brochure, showing the visitor center, trails, roads, and campsites. Click the image to view a full size JPG (300 kb) or download the PDF (1.8 mb).
Congaree trail maps
This is a Congaree trail map (300 kb), showing the Harry Hampton Visitor Center and all the surrounding trails and boardwalks (both low and elevated), including junctions and mileages.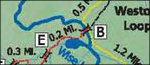 This is an older Congaree trail map (150 kb), but I find the full colors make the map much easier to read than the newer Park Service one above (even though this one hasn't been updated in years).
Congaree regional map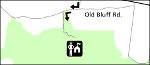 This regional Congaree map (350 kb) shows the park in relation to the major roads of Columbia, SC and provides directions to the park from the Columbia Metropolitan Airport.
Congaree geologic maps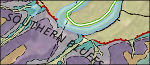 The Congaree geologic map (2.1 mb) really hits home how much of the park is floodplain in comparison to bedrock. View the map below to see a legend identifying each rock layer.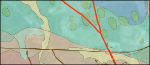 This geologic map of Congaree (2.1 mb) zooms out to show the surrounding area of South Carolina southeast of Columbia. It also includes a legend labeling each rock type in the map above.
Congaree forest map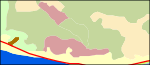 For the scientists, here's a vegetation map of Congaree (550 kb), identifying the various types of forest found in the park with their Latin names (and shows other types of land use as well).
…and more!
< Return to National Park Maps home
< Return to Park List
< Return to List by State
Need more help? Browse Amazon's best-selling South Carolina maps and guidebooks.