If you're looking for a Carlsbad Caverns map, you've come to the right place; currently I've collected 13 free Carlsbad Caverns National Park maps to view and download. (PDF files and external links will open in a new window.) Here you can see a bunch of maps focusing on the routes of various guided cave tours, as well as other maps showing the park area above ground. You can also browse the best-selling Carlsbad Caverns maps and guidebooks on Amazon.
Carlsbad Caverns map from the park brochure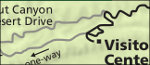 This is the official Carlsbad Caverns National Park map, showing the main visitor center area and the rest of the park. Click the image to view the full size JPG (200 kb) or download the PDF (100 kb).
Regional Carlsbad Caverns map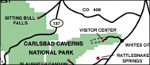 Here is a regional Carlsbad Caverns National Park map. It shows the surrounding roads and nearby Guadalupe Mountains National Park. Click the image to view a full size JPG (80 kb) or download the PDF (150 kb).
Carlsbad Caverns trail map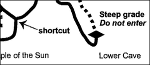 This Big Room self-guided tour map (300 kb) shows the wheelchair-accessible routes into Big Room from the elevators. You can read the enthusiastic Big Room reviews on TripAdvisor to help you plan your visit.


If you're looking for a complete map of the publicly accessible portions of Carlsbad Caverns, the National Geographic Trails Illustrated map should meet your need. I especially like that it labels prominent cave features along the routes. It also includes trails and topographic lines above ground, so it'll serve your needs regardless of what you're doing in the park – hiking above ground or caving underneath.
Carlsbad Caverns tour route maps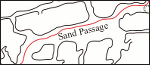 This is the Hall of the White Giant route map (60 kb), one of the longer tours offered in Carlsbad Caverns (four hours in tight spaces). Check out the White Giant tour reviews on TripAdvisor to see if you can handle it.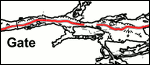 Here's a Left Hand Tunnel route map (230 kb), showing the route of this moderately difficult tour that uses only lantern and candlelight. It's easy to image yourself going back in time!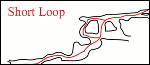 This Lower Cave route map (100 kb) shows the three-hour tour's path, including the sixty feet of ladders that must be navigated to reach the system. Read the Lower Cave tour reviews on TripAdvisor to learn more.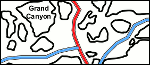 The Spider Cave route map (200 kb) shows the path taken by this tour featuring heights and tight spaces in an entirely separate cave from the main Carlsbad Caverns. Yes, there's more than just the main cave!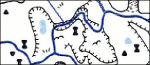 Here's a Slaughter Canyon Cave route map (350 kb), showing the 5 1/2 hour tour's route through this wild undeveloped cave that requires a hike to get to. Read the reviews of this tour on TripAdvisor.
Carlsbad Caverns lodging map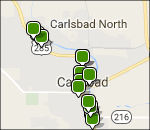 Carlsbad Caverns National Park is kind of in the middle of nowhere. The nearest town Carlsbad, NM, and to the right you can view a Hotels.com interactive lodging map of your different Carlsbad options. Here I've also linked to Expedia's top-rated Carlsbad Caverns lodging (and Hotels.com) where you can compare photos and price before booking. Or browse guest reviews of TripAdvisor's best-rated hotels for another perspective.
3D Carlsbad Caverns maps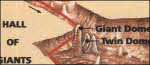 This Carlsbad Caverns map shows a 3D cave diagram (2.4 mb) and is from the backside of the official park brochure and contains additional educational and tour information to help you plan your visit.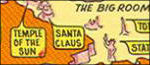 This retro Carlsbad Caverns map postcard (200 kb) shows a general layout of the cave system and labeling individual rooms. (Unfortunately I can't find the original source of this image in a higher resolution.)
Various Carlsbad Caverns maps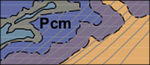 This is a Carlsbad Caverns geologic map Caverns (1.6 mb), showing the various limestones and carbonates that make up much of the Carlsbad Caverns National Park bedrock and cave system.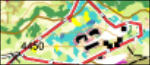 Here's a Carlsbad Caverns vegetation map (4.5 mb), showing the plant communities — because there's more to the park than just the caves! (Although the caves are probably the reason for your visit.)
…and more!
< Return to National Park Maps home
< Return to Park List
< Return to List by State
Need more help? Browse Amazon's best-selling Carlsbad Caverns maps and guidebooks.