If you're looking for a Cape Hatteras map, you've come to the right place; currently I've collected 6 free Cape Hatteras National Seashore maps to view and download. (PDF files and external links will open in a new window.) Here you'll find one map to cover the entire national seashore and a few maps that zoom in on specific visitor destinations within the park. You can also browse the best-selling Cape Hatteras maps and guidebooks on Amazon.
Cape Hatteras map from the park brochure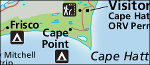 This is the Cape Hatteras map from the brochure, ranging from Bodie Island to Hatteras Island and Ocracoke Island. Click the image to view a full size JPG (375 kb) or download the PDF (20.5 mb).
Detailed Cape Hatteras maps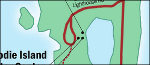 Here is a Bodie Island map (80 kb), which shows the Bodie Island Lighthouse and visitor center (and nearby nature trails) as well as Coquina Beach and associated bathhouse.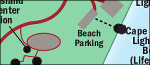 This is a Hatteras Lighthouse map (100 kb), which focuses on the developed area around Cape Hatteras Lighthouse: parking areas, points of interest, visitor centers, campgrounds, museums, etc.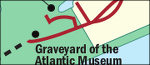 Here's a Hatteras Village map (50 kb), showing the location of the Graveyard of the Atlantic Museum and the ferry to Ocracoke across Pamlico Sound in relation to Highway 12 from Frisco.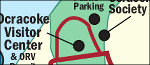 This is an Ocracoke Village map (80 kb) – the main tourist area on Silver Lake Harbor on Ocracoke Island, way at the southern end of the park. You'll find the Ocracoke Visitor Center and nearby roads and parking.
…and more!
< Return to National Park Maps home
< Return to Park List
< Return to List by State
Need more help? Browse Amazon's best-selling Cape Hatteras maps and guidebooks.