This is my opinionated Canyonlands maps page, which complements the Canyonlands National Park maps page. The difference is here you'll find all the maps along with my commentary, while the other page just presents the maps in a straightforward, no-frills manner. For more trip planning advice, you can browse the best-selling Canyonlands maps and guidebooks on Amazon. Otherwise, read on here for my hopefully-coherent guide to Canyonlands as told through the park's maps.
Official Canyonlands map from the park service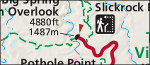 Here's the 2015 version of the official National Park Service Canyonlands map, which supercedes the one below. You can see that Canyonlands is a bit of a unique park; two rivers divide the park into three districts with no direct road or bridge connection. Thus you have to visit each area separately. Most visited is the Island in the Sky region, which is nearest Moab and has lots of great overlooks and short trails. The Needles district is about an hour and a half from Moab and has some incredible hiking trails in and out of canyons and rock formations. This is the place to spend your time if you're a big hiker. (The Squaw Flat Campground is a beautiful place to spend a few nights.) Finally, the Maze district is the incredibly remote western portion of the park. There's no easy way to get here – you either need to be very experienced in off-road driving or take a jetboat from Moab. Regardless, there's no such thing as a day trip to the Maze – it's so remote that you'll want to camp at least a few nights. Click the image to view a full size JPG (2.4 mb) or download the PDF (14.6 mb).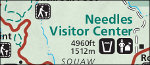 This is the previous NPS map of Canyonlands, which I've kept here since you might prefer the classic green-shaded national park style map. This one doesn't have quite as much topographic detail, so the PDF file is about half the size as the one above. Click the image to view a full size JPG (1.8 mb) or downoad the PDF (8.0 mb).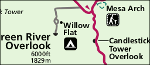 This is the unshaded Canyonlands map, which is best for printing. Since it doesn't have all the topographic detail of the maps above, it'll be easy-to-read even if you're printing it off a black and white printer. It's also a much smaller file size since it eliminates all those details. Click the image to view a full size GIF (700 kb) or download the PDF (400 kb).
Canyonlands region-specific maps
Here are some maps that I've cropped down from the big maps above. Since Canyonlands is made up of very distinct districts that must be visited separately, I figure you might want to just download the map of the specific ones you're visiting.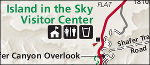 Here's an Island In the Sky map that focuses in on just the most heavily visited of the Canyonlands districts. It's most visited because it is the shortest drive from Moab and because there is a lot to see from short hikes that can be accessed by car; there's no need to hike long trails to see the majority of the sights here. (That said, even if it's the "most visited," it's still much quieter than Arches National Park.) My favorite trail here is Mesa Arch – a short walk takes you to the arch perched on the edge of the canyon wall overlooking the canyonlands below. (Come for sunrise to get the classic view of the sun rising through the Arch.) Upheaval Dome is pretty fascinating to explore – it's a strange, unusual rock formation likely created originally by a meteorite impact. And of course, drive south to Grand View Point and stop at the various overlooks along the way – here you stand on the edge of the "island" that makes up Island in the Sky. Click the image to view a full size JPG (300 kb).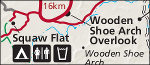 The Needles map shows my favorite Canyonlands district. More effort is required to get here – you'll need to drive south from Moab about 45 minutes and then head west another 45 or so. What you find at the end is a hiker's paradise – tons of trails that loop in and out of canyons and rock formations, including needles (go figure). The best part (besides the incredible scenery) is that there are so many loop hike options available; it's a lot more fun to take a new route on the return than to come back the same way. The best trails depart from Squaw Flat campground and Elephant Hill. Camp at Squaw Flat – it's beautiful with large sites, plenty of privacy, and there's nothing better than waking up and going on an amazing hike right from the campground. The Elephant Hill parking area is at the end of an unpaved road but is doable for all vehicles. I'll talk a bit about some of my favorite trails a bit further below with the Needles trail map. Click the image to view a full size JPG (200 kb).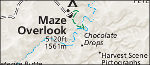 Finally, we have the Maze map. Where are all the trails? Well, most of the Maze consists of "routes" rather than maintained trails, which aren't showed on this map. Getting here is tough – you either need to be an experienced off-road driver or you can take a jetboat from Moab to drop you off in Spanish Bottom. Once you're in the Maze, however, it's simply amazing (groan). You'll find canyons, fins, arches, needles, and all kinds of crazy rock features. But you need to be completely self-reliant – there are no real visitor services or facilities here. Simply put: you need to know what you are doing to see the Maze. Unless you're an experienced backpacker, you're just not going to be able to visit here. Click the image to view a full size JPG (500 kb).
Canyonlands hiking maps


If you're going to be visiting Island in the Sky mostly by car, you'll be fine with the free maps available here (unless you're doing the White Rim road). If you're doing hiking and checking out the Needles or Maze, you'll want one of the National Geographic Trails Illustrated maps. There are also detail maps for the Needles District and Maze District available, which I recommend for backpacking, cycling, and 4WD vehicle trips.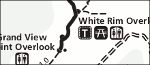 The Island in the Sky trail map is probably all you need for basic hiking in this area of the park. Note the lack of long trails – most can be done in an hour or two. I do recommend checking out the Upheaval Dome area and hiking out to the second overlook – the sandstone exploring is tons of fun. An underrated trail I rather like is to Murphy Point. Even though the beginning of the trail is just through the desert scrub, I enjoy being on the edge of the canyon with no paved viewpoint or railings – it's great to explore the canyon rims as they are naturally, without the crowds. Click the image to view a full size GIF (300 kb).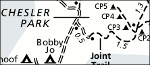 The Needles trail map has a lot going on because there's so much to hike here! I'll try to keep it simple – the best things to see are south of Elephant Hill and Squaw Flat: Chesler Park, Druid Arch, and each of the side-by-side canyons. As you can see from the map, you could spend several days exploring all these – a new loop each day. There are also backcountry sites you can reserve if you want to do backpacking, but I find it's better to camp at Squaw Flat and do day hikes – you can cover more ground, travel faster, and won't have to worry about finding water. I'm not going to explain every single hiking route that I like – for that, just grab a guidebook on Amazon – but you really can't go wrong doing anything from Chesler Park to Big Springs Canyon. And yeah, the canyons to the east are great too. Just go there! Click the image to view a full size GIF (250 kb).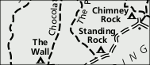 Now we get to the exciting stuff; here's a Maze trail map. Unlike the full-park maps above, this one does show all the currently maintained routes for hiking. Which ones are good? All of them. No, seriously. If you can get a jeep into there, camp in the car sites and do dayhike adventures each day. Otherwise, hike down from above (however far you can get in your car) or up from below (if you took a jetboat to Spanish Bottom) and spend 3-4 days at a minimum exploring the labyrinthine canyons. You really can't go wrong. Click the image to view a full size GIF (300 kb).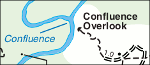 Here's a full Canyonlands trail map that simply combines each of the ones above into a single map. This one is nice if you want to get a sense for the layout of each of the different districts in relation to each other. Also I like this because it's available as a PDF while the ones above I only have images of. Click the image to view a full size GIF (800 kb) or download the PDF (500 kb).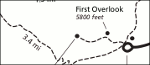 This Upheaval Dome map shows only the trails that loop around and in this likely meteorite impact formation. I wouldn't do the entire loop hike with just this map though – you'll want an actual topographic map for that. If you're going to the first or second (recommended!) overlooks, then this will be fine. Note that Syncline Loop Trail does not have continuous views of the crater/dome itself – it's in a separate valley (syncline) for most of the way. Click the image to view a full size GIF (40 kb).
More information
View the basic Canyonlands Maps page to access all these same maps without my rambling advice and commentary!
Visit the official Canyonlands National Park website.
< Return to National Park Maps home
< Return to Park List
< Return to List by State
< Return to Latest Updates
Related parks: Arches | Bryce Canyon | Capitol Reef | Grand Canyon | Mesa Verde | Zion